I know I don't need to convince you about buying precious metals. I've talked about the intrinsic value of metals, about how you should not follow the herd, and how we have a lot of volatility in our future.
So, I'll jump right into how you can buy silver. First, I'll show you some stocks and what they're all about. Then, I'll give you four ways you can buy physical silver.

Stocks (paper silver).
Silver stocks definitely have their draw-backs. The biggest concern is that when you own a stock (or share) you are directly dependent on whatever brokerage you are using and whatever stock you are buying.
For example, if you buy one share of McDonalds through your Charles Schwab brokerage account, you have no control over McDonalds or Charles Schwab. Either of those companies could go belly-up and you could lose everything. But, in reality, both of those companies have great reputations and are very trust worthy. Still, there is that outside chance that things could go wrong.
The advantage of owning a silver stock (versus physical silver) is that you are very liquid and flexible. You can buy and sell from the comfort of your couch and you have endless amounts of choices of what you can buy. You can buy shares, sell shares short, trade options and endless other kinds of strategies.
Here are four great silver stocks:
ETFS Silver Trust
Ticker Symbol: SIVR
Summary: The investment seeks to replicate, net of expenses, the price of silver bullion. The shares are backed by physical allocated silver bullion held by the custodian. All physical silver held conforms to the London Bullion Market Association's rules for good delivery.
Fees: 0.3% annually.
iShares Silver Trust
Ticker Symbol: SLV
Summary: The Trust seeks to reflect generally the performance of the price of silver. The Trust seeks to reflect such performance before payment of the Trust's expenses and liabilities. The Trust is not actively managed. It does not engage in any activities designed to obtain a profit from, or to ameliorate losses caused by, changes in the price of silver. The Trust receives silver deposited with it in exchange for the creation of Baskets of Shares, sells silver as necessary to cover the Trust expenses and other liabilities and delivers silver in exchange for Baskets of Shares surrendered to it for redemption.
Fees: 0.5% annually.
Silver Wheaton Corp.
Ticker Symbol: SLW
Summary: Silver Wheaton Corp. operates as a precious metals streaming company worldwide. It has 19 long-term purchase agreements and 1 early deposit long-term purchase agreement associated with silver and gold relating to various 29 mining assets. The company was founded in 2004 and is headquartered in Vancouver, Canada.
Fees: N/A (streaming company)
VelocityShares 3x Long Silver ETN
Ticker Symbol: USLV
Summary: The investment seeks to replicate, net of expenses, three times the S&P GSCI Silver index ER. The index comprises futures contracts on a single commodity. The fluctuations in the values of it are intended generally to correlate with changes in the price of silver in global markets.
Fees: N/A. However, this is not a 'long hold' stock and used mostly by sophisticated traders. There are lots of risks with USLV, but there can be huge upside. Read more about it here.
***All summaries provided by Yahoo finance.
[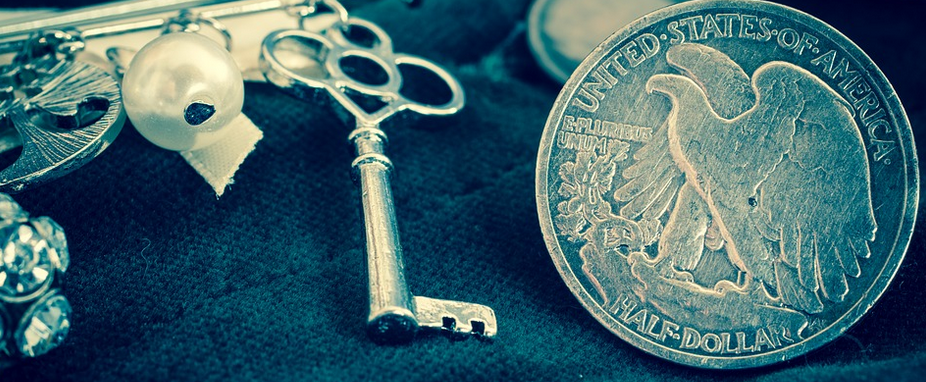 ]Physical silver (shiny silver stuff you can actually hold in your hand).
Silver Coins
Silver coins are coins made of silver (duh!) that have been minted from a reputable mint and may be for regular circulation. The most famous is the American Eagle and is well known throughout the world. Silver coins usually cost much more over spot than bars or rounds, however the collectible value of certain silver coins may be much, much higher than the actual silver cost.
Pros: Silver coins will always carry a premium in desire to own (easy to resell/trade/barter), some add extra value because of collectable qualities, great way to store long term wealth.
Cons: Added cost over the spot price of silver, should be handled much more carefully to protect the integrity of each coin.
Silver Bars
Silver bars are the most common way to invest in silver for long term investing. Bars come in many different sizes and shapes and they are made by many different companies. Make sure you are buying from a reputable company that has a track record and can prove that they are selling you pure silver.
Pros: Low over spot prices, easy to transport, good for large quantities.
Cons: Difficult to trade or barter with (some people only want known coinage). Can be very heavy and difficult to transport in larger sizes.
Silver Rounds
Silver rounds are basically silver bars in 1 ounce coin shape. Other than the size and shape, there is really no difference. Silver rounds are made by many different companies and have all kinds of different images.
Pros: Readily available almost anywhere, easy to personally hold, lower over spot prices (compared to coins), great way to start investing in silver.
Cons: May be difficult to resell (depending on brand/image), if you're looking for cheap silver bars are better.
Junk Silver
Junk silver usually refers to US minted coins that used to contain silver. 40% and 90% were the amounts of silver that certain coins contained, therefore creating much more value than the actual representation of the coin itself. The most popular coins are pre-1965 dimes, quarters and half dollars which contained 90% silver. Recently, junk silver has carried premiums (over spot price) much higher than all other physical silver investments.
Pros: Easy to recognize and difficult to counterfeit, breaks down silver investments to small denominations, very easy to resell/trade/barter, very easy to physically hold/carry, because these coins aren't minted anymore they are getting more and more rare.
Cons: Expensive over spot price, difficult to build significant investment quantities (due to lack of supply and premium price).OK… so you want to buy some now…
If you're in the market to buy significant quantities ($10k+) give Van Simmons a call here… he'll take care of you.