You likely know all about Florida Man, but if you've never heard of him let me give you a quick introduction…
"Florida Man" is the unofficial mascot of the State of Florida. He's not a single person, but rather an avatar for the average man in Florida. Somehow this man gets himself in the most impossible of situations, which are usually highly illegal and hilarious. Here are some recent headlines from FloridaMan.com: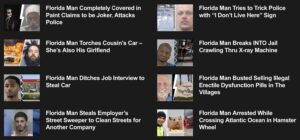 To perpetuate this legend, there is a fun game you can play where you search "Florida Man" and your birthdate. No matter what day you were born on, there are multiple ridiculous news articles about crazy people from Florida doing stupid things.
However, like most things in the news today, what you hear about Florida is often inaccurate.
Florida Man Make Over
Some how, Florida has gotten a notorious reputation of being hometown to gators, the Evil Orange Man, book banning, hurricane destruction, and of course, Florida Man.
The reality on the ground is a much different picture. Just look at the state's GDP over the past several years:

Source: FRED
This growth not only outpaced other large states like California, New York, and Texas, but Florida has also grown faster than the US as a whole.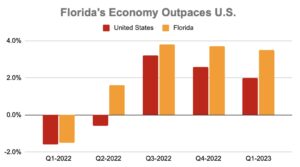 Source: NPR
Florida's economy has grown from favorable business conditions and a steady flow of new residents. For the past couple of years, the state has seen over 1,000 people move there per day!
With zero state income tax, thriving metro areas, and multiple major corporations relocating to the Sunshine State, who do you think is moving to Florida?
Where the Wealthy Gather
It's true that many wealthy Americans are moving to Florida to escape the high tax and regulatory environments of states like New York, Illinois, and California. But it's also younger and less established individuals moving to Florida in search of opportunity.
Whether you're in Miami, Fort Lauderdale, West Palm Beach, Tampa, Orlando, or even Jacksonville, the feeling of growth is palpable.
This combination of wealthy Americans, flourishing economy, and hungry talent has resulted in a very enticing environment for new companies to be built and business deals to be made. That's why Florida has been ranked the number one most entrepreneurial state in America.
All of this activity has even attracted a certain kind of seasonal tourist…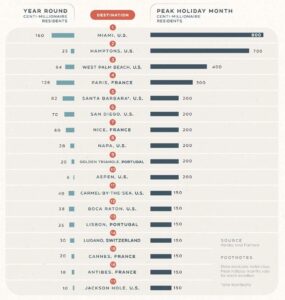 Source: Visual Capitalist
South Florida absolutely dominates when it comes to being a top destination for the wealthy. (Note that Miami, West Palm Beach, and Boca Raton are all within an hour drive of each other, and they are all connected with a brand new high speed train.)
Of course, many of these wealthy visitors are coming for the great winter time weather. Conveniently, many US corporations are relocating to Florida, making business and pleasure trips much more enticing…
"Florida experienced an 86 percent increase in corporations moving their headquarters into the state compared to those relocating their head offices out of Florida, leading the nation." –TC
West Palm Beach is now nicknamed "Wall Street South" after the city became home to Citadel, Goldman Sachs, Blackrock, and dozens of other high profile financial firms.
Boom to Bust?
Florida has historically had a notorious boom-bust cycle that has taken many investors down in the past. One of the big reasons why that has happened over the past century is because of the migratory behavior of the state's population.
Traditionally, Florida has been a seasonal destination for "snow birds" who are escaping cold winters in the north. That resulted in Florida's economy relying more on tourist and retiree money, rather than actual local based industry.
Now, with more full-time residents arriving each day, Florida's economy is more stabilized and less reliant on transitory spenders.
Regardless of Florida's longterm success forecast, the present situation is bright. Investors, entrepreneurs, and those looking for opportunity are flocking to the state to be around other go-getters.
Will you be the next Florida Man?