Unless you've been living under a rock, you know all about how the cannabis industry has been absolutely exploding over the past several years. There are thousands of legal cannabis businesses throughout the world and well over 100 publicly traded cannabis companies, many with market caps of over $1 billion.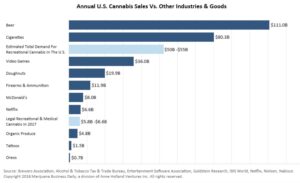 The cannabis industry is growing at an unbelievable pace and is set to disrupt major companies in the alcohol, tobacco, pharmaceutical, food, drink, and many other sectors. Source: MJBizDaily
Because of the negative reputation that surrounds cannabis, companies are struggling to attract talent from other major industries. Many employers are in need of experienced c-suite executives,  reliable managers, and trustworthy mid-tier employees.
For those willing to make the switch into this fast growing market, there are huge rewards. High salaries, big compensation packages, and very lucrative stock options are just some of the perks employers are offering to attract the right talent.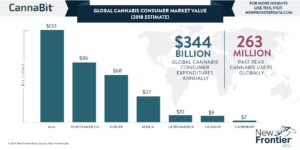 While the US and Canada are already quickly growing, the global cannabis market is going to be enormous. Source: New Frontier Data
Companies within the cannabis industry have already hired notable outside executives including Calyx Peak (CEO, Edward Shmultz, formerly CEO of FAO Shwarz and COO of Patagonia) and Caliva (Chairman, Carol Bartz, former president and CEO of Yahoo).
This trend of nabbing industry outsiders is sure to increase, as marijuana companies are in desperate need of experienced leaders. For students finishing up their higher education or for experienced professionals looking for a new venture, there lies a huge opportunity for those willing to take the leap.
However, just like many industries, it can be tough to crack into the cannabis network. Knowing which companies to look for, who to talk with, and understanding the landscape of the industry often requires a matchmaker to find the best fit.
That's why there are now dozens of cannabis recruiting companies that have popped up over the past couple of years. (Being a cannabis recruiter is an opportunity in itself!)
Below are the 25 top recruiters who currently have thousands, yes thousands, of open positions across the US, Canada, Europe, and many other parts of the world. Depending on your unique skills, location, and desired position, there is sure to be at least one recruiter that can find a great position for you.