Since going public last week, plant-based-meat manufacturer Beyond Meat has risen over 250% to make for an unbelievable market cap of nearly $5 billion. And that's with revenue under $100 million.
It'd be easy to point out the frothiness of this latest IPO, but there may be more to this story beyond irrational investors.
Beyond Meat is the latest darling of the food tech trend that has been rapidly expanding across the globe. In the United States, 25% of millennials identify themselves as vegan or vegetarian. That brings the total number of non-animal-meat consumers in the US to over 22 million people, which represents an expected $6+ billion market by 2020 – less than a year away.

The Economist has named plant-based foods as the number one trend for 2019, while the UN and USDA are currently recommending plant-based diets to satisfy the unsustainable demand for meat products throughout the world.
Oppenheimer analysts led by Alexia Howard said, "If the alternative meat category develops along a similar path to plant-based beverages (from 5%-15% of the market around a decade after the almond milk innovation turbocharged the category), then the total addressable market could be [approximately] $40.5 billion in the US within a decade."
Early investors are currently piling in to these opportunities. By the beginning of 2019, private investors such as Bill Gates, Eric Schmidt, Ellen DeGeneres, and dozens of other high profile influencers have poured hundreds of millions of dollars into plant-based and meat-alternative food companies.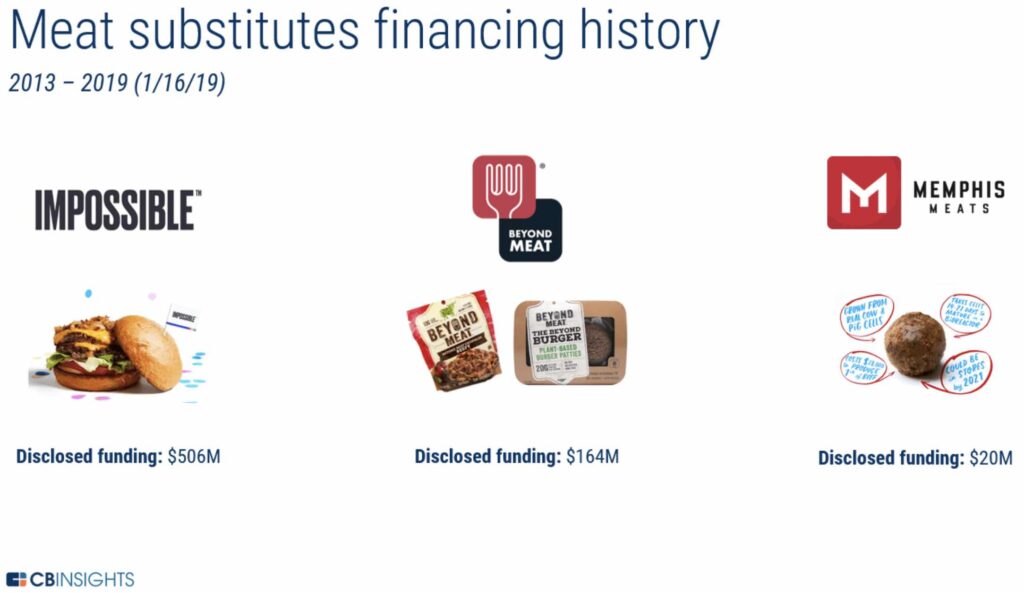 This is a topic that I've discussed before and even I was skeptical of the Beyond Meat IPO. Clearly, I was wrong to skip out on their IPO, as the market has an enormous appetite for food companies that are providing alternatives to traditional food sources.
But, that doesn't mean I'm not getting involved in other ways. (E/P members, we'll be sending out a new investment in this space today.)
When it comes to finding a market that has enormous upside, food should be at the top of your list. Considering that every human being on earth needs to eat, and at the same time our current production rates can't keep up with our population growth, there are some big challenges to be solved. (And a lot of profits to be made along the way!)