9,000,000,000 chickens, 121,000,000 pigs, and 32,000,000 million cows are slaughtered every year in the United States. Globally, those numbers are much larger and expected to increase as growing middle classes can afford more expensive protein sources.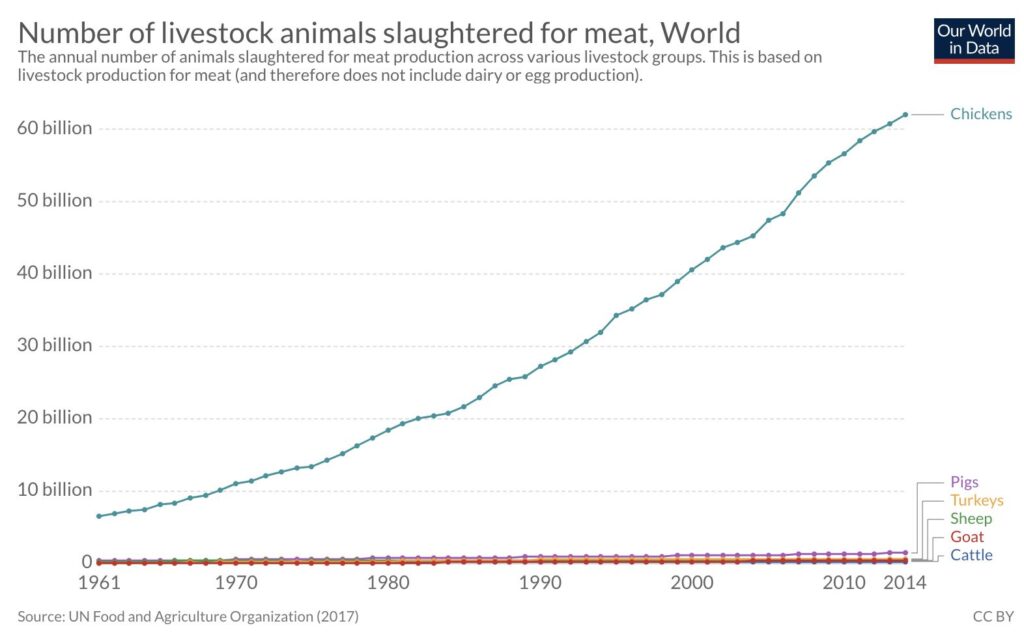 Don't worry… this is isn't a don't-eat-meat because of ethical reasons discussion. Instead, we'll look at the factual collateral that comes along with producing animal meat at large scales. Here are some incredible statistics to absorb:
Global beef production is forecast to grow 3 percent in 2019 to 62.6 million tons, primarily from gains in Brazil, the United States, and China.
Global chicken production is forecast 3 percent higher in 2019 to a record 98.4 million tons. The strongest growth rate in 5 years is largely supported by gains in China but also by all major producers.
The average amount of meat consumed per person globally has nearly doubled in the past 50 years, from around 50 pounds in 1961 to 95 pounds in 2014.
Livestock production currently accounts for ~18% of all greenhouse gas emissions (carbon dioxide, methane and nitrous oxide), which is more than all transportation (cars, trains, planes, ships) sources combined!
A single pound of beef requires approximately 1,800 gallons of water.
And the list could go on and on. Clearly, there are many more concerns around increased meat consumption that go beyond ethical concerns. Water consumption, land use, animal food production, and air quality impacts create significant problems for our lifestyle and environment.
That's why companies are now tackling this issue by creating meat alternatives. Impossible Foods, Beyond Meat, Morningstar Farms, and Tofurky are just some of the companies that are creating plant based foods to supplement or replace traditional animal based products.
In the past, these types of companies have gotten a bad wrap because of the taste and experience that falls very short of real meat. We've all heard the jokes about veggie-burgers and soy based products.
However, some products, like the Beyond Burger and the Impossible Burger, have made significant strides in the past couple of years by appealing to consumers who have shunned meatless products in the past. Major fast food chains now feature meatless burgers on their menu, which have been received surprisingly well. 

In fact, "Beyond Meat is planning an initial public offering that would value the company at about $1.2 billion."
Considering that Beyond Meat isn't profitable, has a large list of competitors, and has shaky contracts with co-manufacturers, I personally won't be lining up for their IPO. But, the larger picture is clear: Meat alternatives are coming to the market and will become mainstream.
If you would like exposure to this part of the market, you can look at traditional meat producers like Tyson Foods ($TSN), Hormel Foods Corporation ($HRL), and WH Group Limited ($WHGRF). All of these companies are actively developing their own in-house products and investing in private companies.
Tyson Foods is particularly interesting because, "Tyson Foods Inc. said on Wednesday it had sold its 6.5 per cent stake in vegan burger maker Beyond Meat, as the no. 1 U.S. meat processor looks to develop its own line of alternative protein products." –G&M
"Tyson Ventures is pleased with the investment in Beyond Meat and has decided the time is right to exit … (Tyson) plans to launch an alternative protein product soon with market testing anticipated this summer," Tyson spokesman Worth Sparkman told Reuters.
This is a trend that is sure to continue because of support from both environmental pressures and social/ethical concerns. Also, as these companies further refine and improve meatless products, margins are sure to increase for food sellers as their ingredients decrease in price.