If it was easy, everyone would do it. 
(You can scroll down to the "START HERE" section to jump straight to the information about the short term rental investment machine in Colombia.)
The older I get, the more that saying resonates with me… especially when it comes to investing.
The actual idea of investing is intoxicating. Put money into an idea, and then get more money back than you started with. And the whole process doesn't require much work beyond your initial research phase.
But, anyone who has actually been an investor for more than a couple years knows that the reality of investing is far from the simple 'put money in, get more money out' idea.
What actually happens with most investments is that you encounter many unforeseen risks and challenges. Things you couldn't have even imagined or strategized for… No matter how much upfront work and research you do before making an investment.
With the most recent global crisis, the same can be said. Yes, it's true that many financial institutions have strategized for global events (such as a pandemic) but the trickle down effects have only now become apparent. Everything from real estate prices, to government intervention, to global supply chain disruptions have shocked most investors (both retail and institutional).
I certainly wouldn't count myself as one of the people who was able to avoid these turbulent times and challenges. My face would look like bloody pulp if the last two years were a boxing match!
That said, it's all about how you battle challenges that you encounter… And how stubborn you remain to achieve your goals. 
And that's exactly what we've done during this entire pandemic with our apartment building in Cali, Colombia. 
To be fair, our on-the-ground partner has done the lion's share of the work (as in, all of the work). Patrick, who many of you have met on our past trips to Colombia, has done an incredible job with getting our apartment building up and running.
START HERE -> Let me back up a bit, and give you the basic story of our Short Term Rental Investment Machine in Colombia…
In 2019, we came up with the idea to purchase an apartment building in Cali, Colombia that we would completely remodel and convert into a short term rental investment building.
While that 'idea' may sound a little off-the-wall, our small team actually had a lot of experience doing this. Not only had we raised money in the past for a variety of different investments, but we also had a great on the ground partner named Patrick Spanfelner.
Furthermore, myself and several of our investors owned (and still own) rental properties in Cali, Colombia that yield returns in the mid-teens. We primarily rent these properties out on AirBnB, with guests staying anywhere from a couple days to a couple months in each rental unit.
In the past, I've written many times about my success with the apartment I own. Here is the actual Airbnb listing, so you can see that it's still working away, giving me returns. (For the past couple of years, I've had mostly longer term tenants, which slightly lowers the yield, but has more reliable returns with less wear/tear on the apartment.)
This success from my personal apartment made me realize that Cali, Colombia is a very interesting niche for short term real estate investors. There is a steady stream of international travelers to this city, an incredible nightlife, lots of outdoor activities, and a strangely inexpensive real estate market.
The problem, or I guess it's an opportunity, is that there are a limited number of high end short term rental options. Furthermore, the management teams and services of existing short term rentals are below standard for potential tenants willing to spend money for quality accommodations.
So, despite Covid's attempt to screw everything up (with ridiculous supply chain interruptions), Patrick and our team was able to capitalize on this opportunity. 
We first found a building in a location that would be attractive to redevelop. This, of course, was no simple task. However, Patrick was able to find a building in a great area of the city and negotiate a favorable deal. This is what the building looked like initially: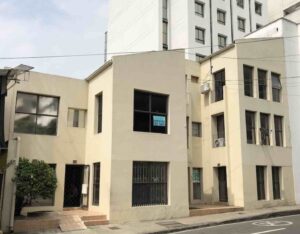 The building was used for offices and had a less than desirable floor plan. We also had to get the building re-zoned to allow for short term rentals… But we did it in a way that also allowed to qualify for special tax incentives with the Colombian government.
Other than most of the outer shell of the building, pretty much EVERYTHING is now brand new. I'm talking all plumbing, electrical, walls, windows, and on and on. We even added another floor to the building, which required a full structural re-engineering plan with mountains of inspections and permits.
The building has everything you can think of… And some stuff you probably didn't think of. For example, in addition to a back up power generator, we installed a massive water storage cistern to ensure that all tenants would have full electricity and water for days in the event that power and/or water went out.
We have enormous amounts of photos that document every step of the journey (there's far too many to share here, but the point is that we have proof that everything was built to code and of the highest quality).
We purchased and started construction on this building basically when the world started to shut down for covid. So, I'm not going to drag you through the ups and downs of the incredibly difficult challenges we faced. Instead… Let's skip to the exciting part!
Here is what the front of the building looks like today: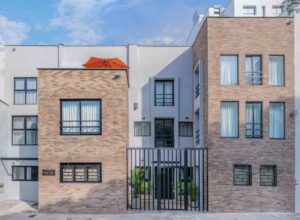 As you can see in this new photo, our building has a new level on the left side and the facade looks totally different.
Here is the building, seen from the backside, which is also across the street from a brand new park that was redeveloped by the Colombian government: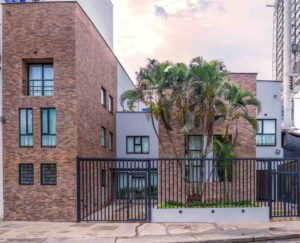 There are a total of 12 separate apartments, which break down to:
Five apartments that are 1 bedroom and 1 bathroom
Three apartments that are 2 bedrooms and 2 bathrooms
Two apartments that are 3 bedrooms and 2 bathrooms
One apartment that is 3 bedrooms and 3 bathrooms
One apartment that is 4 bedrooms and 3 bathrooms
Each apartment is totally unique and comes with brand new high end appliances, furniture, A/C, large TVs (with Netflix, Disney+, Amazon Prime), and high speed 500MB internet. Just like a hotel, all linens, towels, and even kitchen supplies are provided (you gotta get your own food and booze!).
The building also has an onsite office for management, laundry facilities, and multiple different courtyard areas: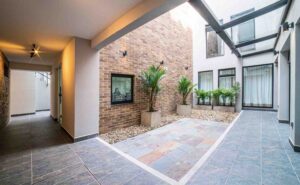 The courtyard and walkway areas are covered with overhangs, to keep visitors dry, and made of glass to let natural sunlight into the interior portions of the building.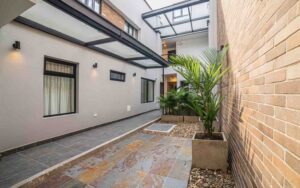 Now, let's take a look at the inside of these apartments: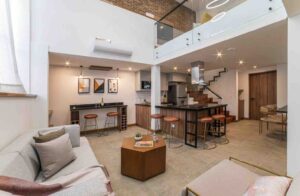 Two of the apartments are two stories, which we made creative and well built stair cases for. These two units have separate living and sleeping areas, allowing families to have separate sleep and play areas for their kids. Anyone who has traveled with their kids knows how valuable this can be!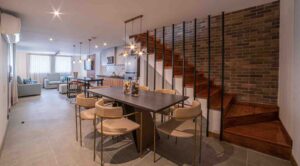 Some of the apartments are designed to be more like city studios, where one or two people can enjoy their time.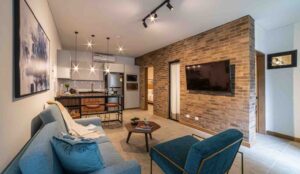 These smaller apartments currently rent for less than $30USD per night(!) and provide a great 'home base' to explore Cali and the nearby coffee region.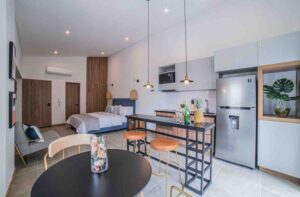 Because each apartment has a unique floorpan, we were able to integrate creative workspaces throughout the apartments. The larger apartments have dedicated desks, which are located away from the kitchen and living areas, allowing for great space to get work done with limited distractions (and of course, our high speed 500MB internet!).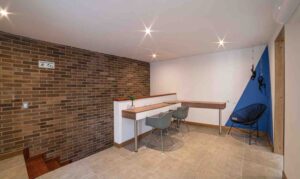 Although we designed these spaces with digital nomads in mind, these are also great places for kids who have school work or remote learning classes to get done while traveling.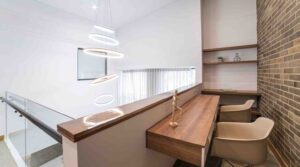 We know it's not all about work… So we made some great living areas, where you can hang with your friends and loved ones.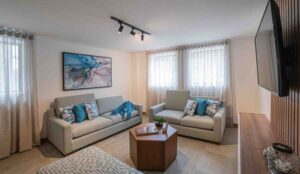 One of the top floor units even has a cool loft that adds another bedroom where you can stick your kids or (tag-along) friend/family member.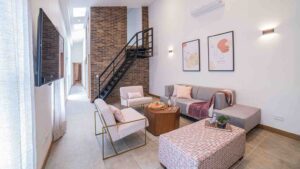 Two of the apartments even have their own private outdoor rooftop patios, which make for great spots to do… Whatever you want.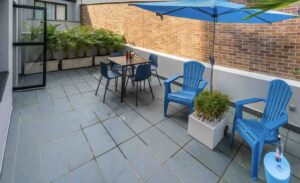 Those two apartments are here and here.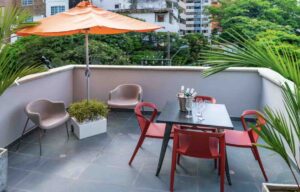 The bedrooms throughout the building are warm and definitely not your 'average Colombian accommodations.'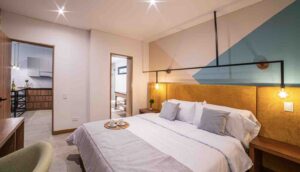 No, there will not be fancy flutes of orange juice on your bed every morning. Unless you ask us. Nicely.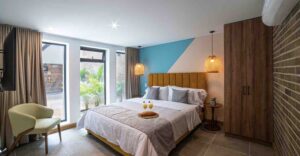 And bathrooms ain't bad either…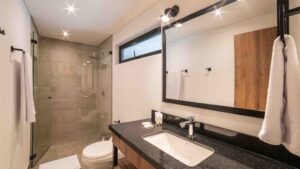 With our backup water cistern and tankless water heaters, you can shower… Well, for as long as you want. Also, water in Cali is clean and you can drink directly from the tap. This is actually true for most of Colombia, as the country has enormous amounts of fresh clean water from the beautiful jungle mountains. That's also why the surrounding areas of Cali are extremely fertile and also an outdoor playground.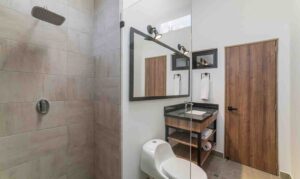 And if hiking around the Colombian jungle isn't your thing, there are dozens of restaurants, bars, historical buildings, and even a mall within walking distance of our building.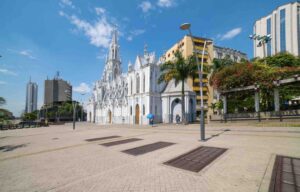 From the US, Colombia its about a four hour flight and less than $200. That allows for a quick weekend trip.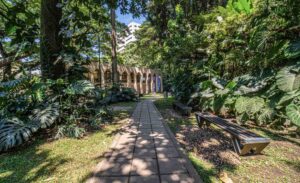 Of course, if you want to stay longer, Colombia is a great jumping off point to explore the rest of South America or just stay within Colombia to live an incredibly inexpensive lifestyle.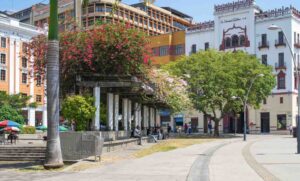 Ok… So, you might be wondering, "How do I invest in this project?!"
Sorry… We're already completely funded and operational. We officially opened our building in the beginning of September and we've already had a couple nights of 100% occupancy (and we haven't even started to advertise!).
Just like any new building, we wanted to make sure to work out any problems before really showing everyone that things are open and ready for business. Patrick and our on-the-ground team did an incredible job at working through the nightmare covid situation, and were able to get this project completed and now fully ready-to-go.
We'll likely do more projects in the future (location and timeframe are still undecided), but as you can see from the photos here, we can certainly make this happen again. That's especially true considering that we had every single possible thing go wrong that you could imagine. Everything from appliances not being shipped into the country, to government permit offices being closed for months, to workers not being allowed to be on site (almost all due to covid regulations).
Do You Want to Visit?
Colombia is one of the few countries that you can visit right now from the US. No quarantine, no crazy paperwork required, visa on arrival, and plenty of businesses/services open.
You can book your reservation now, with an extra 10% off using the code "10X2021″ until the end of the year. CLICK HERE. 
We've already had a surprising amount of reservations booked and expect that trend to accelerate, as travelers from around the world look to locations that are allowing foreign tourists. Again, Colombia is one of the few countries in the entire world that is totally open and allowing tourists to come visit without quarantine or vaccine passports required.
I'm thinking about doing a trip in 2022, where we reserve the entire building and have a big ole fun time. You in?
"When you plant something, you invest in a beautiful future amidst a stressful, chaotic and, at times, downright appalling world."  -Monty Don