Opening up shop in mid-1854, his store shelves were originally stocked with dry goods that he imported from his brothers, who were based out of New York City. Bedding, clothing, toiletries, and dozens of other accessories kept a steady stream of customers coming through his doors.
As more and more customers immigrated to the region, his small supplies store quickly grew to provide more products such as tents, sleeping bags, and other outdoor accessories. One of his top selling products was heavy duty cloth, which his customers were using to fix their torn pants.
By now you should know exactly who I am talk about. Levi Strauss, the German-American businessman, is credited with not only being the creator of riveted blue jeans, but also with becoming possibly the wealthiest 'picks and shovels' entrepreneur of all time.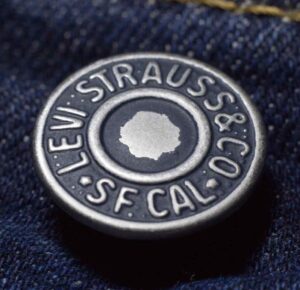 Today, the publicly traded company Levi Strauss &. Co. ($LEVI) does almost $6 billion in annual revenue – that's a lot of jeans! Although most of the jeans that Levi makes today are used for everyday people, the fundamentals of a 'picks and shovels' business are clear:
By focusing on providing ancillary products or services to major industries, an entrepreneur can often make more money than actually participating within the industry that they are supplying.
In other words, instead of actually mining for gold himself, Levi Strauss made a lot more money by selling blue jeans and other supplies to the endless line of gold miners who migrated to California.
This is a similar approach that we have taken to investing in the cannabis industry, as a majority of our investments have been in the 'picks and shovels' category. By investing in ancillary services and products, we are getting exposure to cannabis without the legality issues or price sensitivity that comes with an agricultural commodity (yes, marijuana is just like any other commercially grown plant that is subject to pricing fluctuations based on supply and demand).
Finding an industry where you can be early to the market with ancillary services is very difficult. Many entrepreneurs already know about the value of pursuing 'picks and shovels' business models, which means that most markets are crowded with lots of competition.
But, if you look closely, you'll still be able to find lots of opportunities… especially if you're looking to add some adventure into the mix…
Bordered by the Atlantic Ocean, Venezuela, Brazil, and Suriname, the country of Guyana has a population about the size of Seattle, Washington. Originally home to a Dutch Colony, and then a part of the British West Indies, Guyana is now the only country in Latin America that has English as its official language.

Today, Guyana is an independent country with some of the most pristine natural evergreen forests and highest levels of biodiversity in the world. Much of the remote jungle in the interior of the country has yet to be explored, and scientists are still finding new species of animals in the region to this day.
However, as incredible as the country's mainland is, the focus has recently been on the 26,800 square kilometer (6.6 million acres) area known as Stabroek block. This plot of land is actually under the sea, about 200 kilometers off of Guyana's coast.
ExxonMobil discovered this area in May of 2015, and they estimate production of up to 750,000 barrels of oil per day. This production rate would outpace Venezuela, which is home to the world's largest oil reserves, making the tiny country of Guyana flush with cash.
As exciting as this all sounds, the reality is that Guyana isn't ready for this money. Simply put, the country doesn't have the infrastructure to properly manage huge amounts of capital. For perspective, Guyana's Department of Energy has an annual budget of just $2 million USD… but if ExxonMobil is correct with their projections, there could be well over $50 million of oil being pumped out of the sea floor PER DAY.
Obviously the majority of that money is going to be seen downstream at the major oil companies, but what about all of the operations that will be going on in Guyana? The hotels, restaurants, transportation services, and literally dozens of other 'picks and shovels' services and products that will be needed?
Well, that's where the opportunity comes in. Remember, Guyana's official language is English and there are non-stop flights from the US for less than $500. From Europe the flight is a little longer, but still less than $1,000.
If we look at other oil boom towns, like in West Texas, some of the most ordinary businesses can make big money. For example, even a barber can make $180,000 per year. Imagine what could happen if you set up shop in Guyana before the rest of the crowd…