Look For The Exits
It's a habit that I still have today.
I'm always looking for an exit. I mean this literally. I always look for exits in restaurants, on airplanes, and really any confined space that I'm in.
If I'm in a crowded bar (or any crowded space), I usually try to stand near the edges. I'm always ready for a quick escape.
This habit isn't something that I just picked up randomly. I learned it for good reason. I've seen the results of what happens when you don't know where or how to exit.
You probably don't know this, but I used to be a firefighter. I even spent several years detailed as an arson investigator.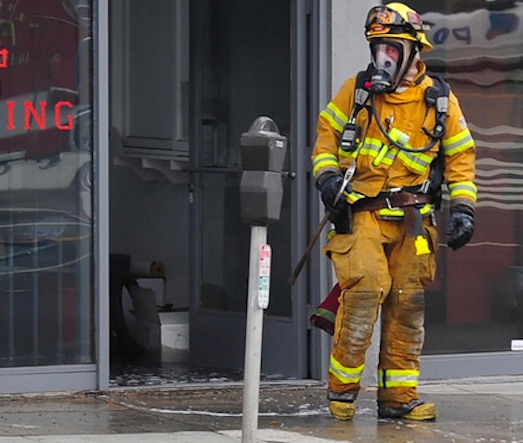 Me, just after a fire, almost 10 years ago.
I could tell you all kinds of stories that would give you chills… but I won't. Honestly, I don't really want to think about that stuff. Besides, I have an even better way to demonstrate the importance of knowing where your exits are.
Although this video doesn't have anything to do with investing, I recommend that everyone watch this (I'll explain below why I'm sharing this with you). It's about 15 minutes long, so watch it later tonight if you don't have the time now.
Be warned – the video is graphic. It's a terrifying example of how things can go wrong very quickly.
Seriously, this video is the real deal. I believe that it's a must watch for anyone who doesn't understand how quickly things can go wrong. If you ever go to night clubs, restaurants, or crowded areas, then you need to watch this. But, I'll say this again, it's graphic. You can also search more about this incident – the Station nightclub fire.
We could point to all kinds of reasons why this happened, but that doesn't change anything. 100 people still died. People just like you and me who were at the wrong place at the wrong time.
Even though it has nothing to do with investing, I'm sharing this for two reasons.
#1: Because I truly want you to be safe in general. I watch this video every couple of years just to remind myself of how things can go wrong. It's chilling, but also a sobering reminder.
#2: Because I'm going to show you a whole bunch of reasons why I am being cautious as an investor right now. I'm keeping my eye on the exits and I'm standing on the edges of the crowd – ready to leave if something goes wrong.
Why I'm cautious right now
I want to be clear. I am not predicting a market crash tomorrow.
In fact, there is a lot of evidence that would suggest our economy (and stock market) could see an enormous bull run in the coming years.
The simple fact that there are cautious investors (like myself) suggests that the overall market has not reached "irrational exuberance." This was clear in 2000 and 2007 when everyone (and their mom) was jumping into stocks or real estate.
I don't hear people talking about the stock market in the grocery store. There are no signs of imminent doom.
There are, however, a variety of indicators that are telling me I should be keeping an eye on the exits.
In no particular order, here are several indicators that have caught my eye:
The Fear and Greed Index (provided by CNN Money) has some interesting data points that indicate a market getting relatively hot.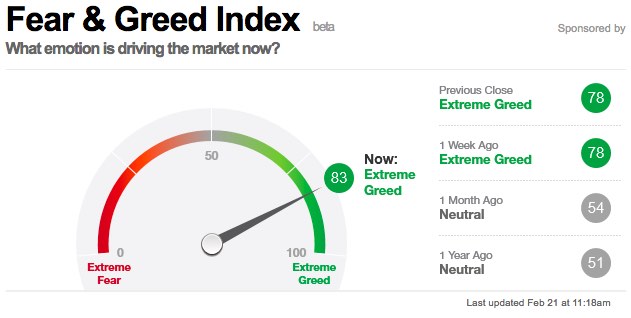 Source: CNN Money
Goldman Sachs analysts have stated, "Cognitive dissonance exists in the US stock market. S&P 500 is up 10 percent since the election despite negative [earnings per share]…"
This is evident in Warren Buffett's favorite indicator where we can compare total market capitalization to GDP. Or in other words, how much are things being valued at, compared to how much they're actually making?

Source: GuruFocus
In recent times, this ratio of market cap compared to GDP has only been higher during the 2000 dot com bubble.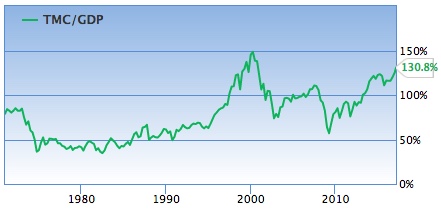 Source: GuruFocus
Finally, I'll show you a chart that is of particular interest to me.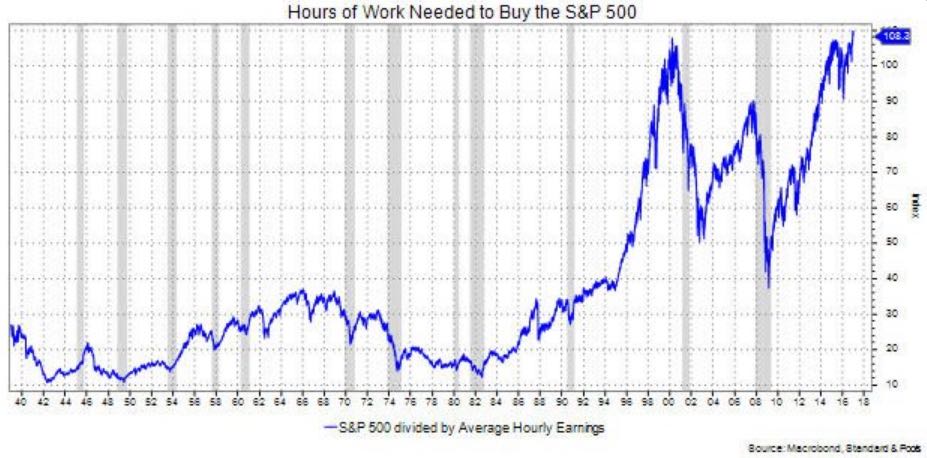 Source: Standard and Poor's
This shows that the number of hours per week someone needs to work in order to buy the S&P 500 is at its highest level ever. This is calculated by determining the average wage of an American worker, so this could be a sign of declining incomes in addition to an expensive market, making this chart look even more distorted.
Now, with all of this data, it probably looks like we're headed for armageddon. That couldn't be further from the truth.
In reality, when there are huge discrepancies in a market – even if that means overvaluation – there are huge opportunities.
For example, I recommended buying uranium in January because it was a sector most had forgotten about. Seems like everyone was buying all the high-flying tech stocks.
Well, we made 25% in one month. Many readers told me they cashed out for a quick 25% gain (great job everyone!). Some are still holding on for a longer term investment (great strategy too!).
I've also suggested investing in other cheap markets, like foreign real estate. Several of you actually bought some real estate from the contacts I gave you – I'll be following up soon to show everyone how that's working out.
The big picture I'm pointing out here is that there is significant risk in the market today.
That doesn't mean you need to crawl into your bunker with your guns and survival food… it just means we're going to have to look a little harder to find great opportunities.
This also means that you should be very cautious about getting sucked into a risky situation. Keep an eye on the exits. Consider what necessary steps you need to take to preserve your wealth.
One final note:
There is a reason why I have only made one stock recommendation for 2017. 
That's because I am not buying any new positions (other than the one I recommended). If I'm not buying, then I'm sure not going to recommend that you do.
I've been hard at work finding other opportunities for us. I've recently been to Austria, Ukraine, and Turkey looking for areas to invest (I found a couple that I'll soon share). I have the UK, China, Mexico, and several places in the US that I'm going to in the next couple of months.
It's going to take more work to find profitable investments, but usually the time and quality of work put in correlates to higher returns. More coming…