In August of 2019, I wrote about how the country of Guyana was on the verge of massive transformation. Although there was no pure play way to invest in this opportunity, my timing was pretty good: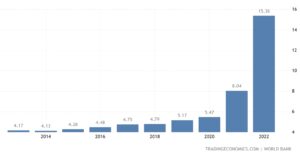 Since 2019, Guyana's GDP has tripled. The country's economic growth looks like some kind of tech or meme stock that has come out of nowhere. But there's likely much more growth to come…
The IMF has projected that Guyana's GDP will expand another 38% in 2023, and yearly growth could continue well past 2030. Because of the country's relatively small population, Guyana could end up being one of the richest in the world on a per-capita basis.
However, there's a problem. As I explained back in 2019:
As exciting as this all sounds, the reality is that Guyana isn't ready for this money. Simply put, the country doesn't have the infrastructure to properly manage huge amounts of capital. For perspective, Guyana's Department of Energy has an annual budget of just $2 million USD… but if ExxonMobil is correct with their projections, there could be well over $50 million of oil being pumped out of the sea floor PER DAY.
But, where there are challenges, there are opportunities.
Entrepreneurs in Guyana
When I first wrote about Guyana, I explained that one of the best opportunities was to pursue a picks and shovels strategy. Much like Levi Strauss made money from selling jeans to gold miners, picks and shovels suppliers in Guyana will likely do very well in the years to come.
Of course, I'm not talking about selling actual picks and shovels. Instead, services like transportation, lodging, food, business services, and dozens of other business opportunities will flourish. In fact, it's already happening – just look at the Georgetown Marriott hotel, who's nightly rates are pushing $500USD.
This trend is still very early. Even though the country's GDP is expanding rapidly, the infrastructure to support this growth is still far behind. For entrepreneurs looking for an amazing opportunity, nothing will replace taking a flight to the country to visit for a week. Round trip flights from Miami are less than $300 right now.
If you think that sounds crazy, you should take a look at who has been traveling there lately…
The US and China Want Guyana
Saudi Arabia shocked the world, and the US, earlier this year when it announced, "that it would begin cutting oil production by 1 million barrels per day in July to support the "stability and balance of oil markets." Of course, we all know that this move was part of a larger geopolitical chess match.
In response, the US has scrambled to keep oil prices down. This has included a record depletion of strategic petroleum reserves and opening up new conversations with oil rich countries, like Guyana.
On July 6 of this year, the US Secretary of State, Anthony Blinken, traveled to Guyana to speak with the President and cabinet. You can read the entire announcement, which is filled with fluff and carefully chosen words… Or… I can summarize and translate the statement for you: In exchange for cheap and reliable oil, the US is going to help Guyana in every way imaginable. This includes everything from humanitarian and food aid, all the way to full on military defense. 
Not to be outdone, China hosted the President of Guyana just a couple of weeks later. The PRC released an equally fluffed statement that essentially says the same thing: We want your oil, let's do business.
Who Will Guyana Pick?
It's hard to tell who Guyana will align itself with. ExxonMobil is considered to the the biggest winner, when it comes to securing production agreements, but there is still a lot left to decide.
There is a current open bid process underway for the remaining 14 off shore drilling blocks, which is an area of nearly 400 square miles. So far, there have been numerous bids from different companies, groups, and countries.
ExxonMobil once again teamed up with its partners in Guyana, U.S.-owned Hess Corp. and China National Offshore Oil Corp., to submit a bid. Meanwhile, French-owned Total Energies partnered with companies in Qatar and Malaysia. Also submitting bids were companies and groups based in the U.S., Ghana, Saudi Arabia, Guyana and London. –AP
Last week, US congress members hosted the President of Guyana in Washington D.C. to discuss "critical issues." We'll likely never know the true details of this meeting, but we can probably assume that Guyana is aligning itself closer with the US.
How to Invest in the Guyana Oil Boom
As I said earlier, there is no pure play method to invest in this trend, unless you are willing to physically get involved in the country. What I mean by that is either flying to Guyana yourself and setting something up, or partnering with someone on the ground.
Personally, having invested in multiple different countries around the world, I would not pursue any on-the-ground strategies unless I had a rock solid Guyanese citizen as a partner (anyone out there?!).
Another option, which is likely most attractive to someone fresh out of college or looking for a career change, is to get a job in Guyana with one of the multinational corporations setting up shop. The annual salaries that oil giants pay to foreigners willing to relocate are staggering.
For most investors, simply buying publicly traded companies will be much easier. The problem is that most of the public companies involved in Guyana are also involved in many other markets and locations. ExxonMobil ($XOM) and Hess Corporation ($HES) are the two companies already locked in, with Guyana being on track to be Exxon's top global oil producer.
Who wants to go to Guyana? Drop me a line…