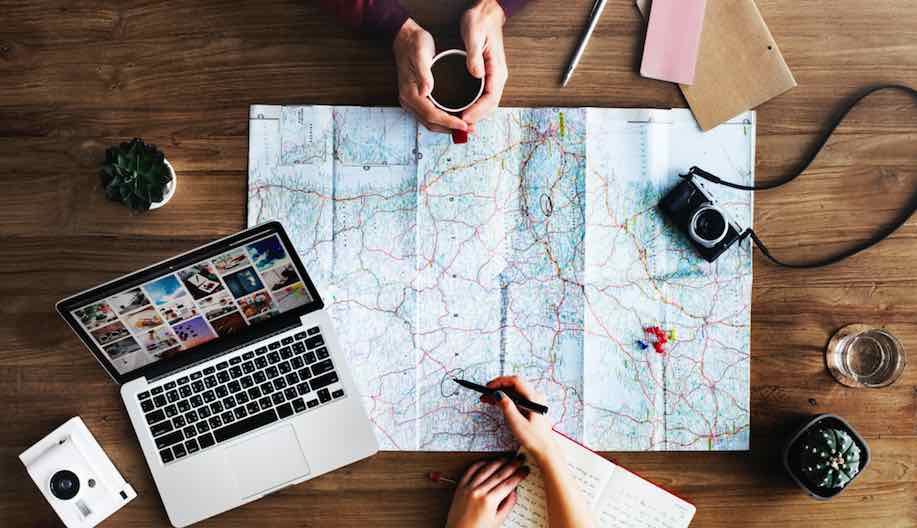 Best Places In The World For Entrepreneurs To Live
A Look At The Top Locations To Make Money, Pay Low Taxes, And Enjoy A High Quality of Life.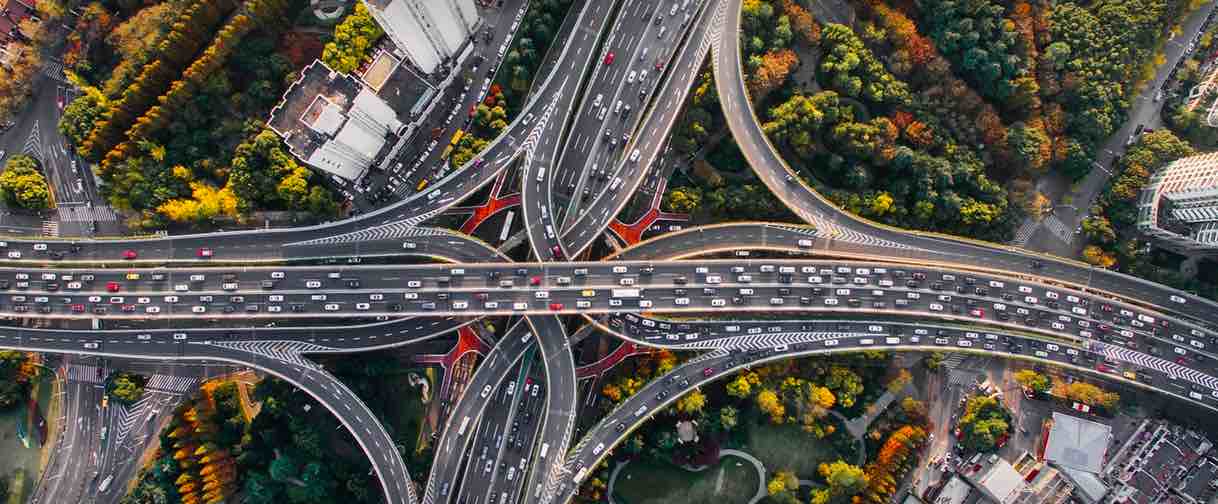 Every year our world becomes more connected and more accessible.
One hundred years ago, the idea of moving to another country, or even another city, was a life changing venture.
Now, with transportation costs at historical lows, the idea of freely moving to where opportunity is located has never been easier.
So, if you're looking for a place that has the right balance of:
Cost of living
Taxes
Opportunity
Quality of life
…then this is just for you. Here are the…
Best Places In The World For Entrepreneurs To Live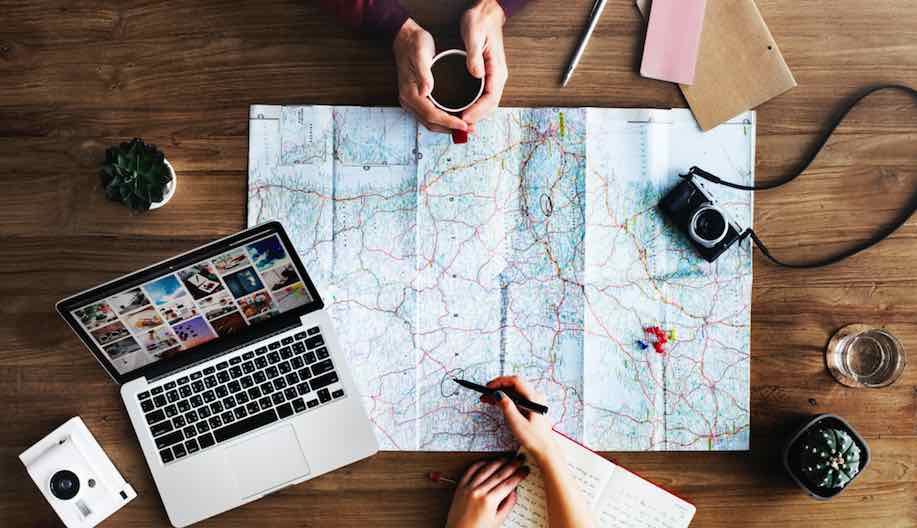 Cost of Living
There are many costs to living. Food, transportation, entertainment, clothing, and many other expenses end up costing money at the end of the day.
However, putting a roof over your head is usually the most expensive cost you will have in any part of the world.
There are many different options when it comes to your living situation. There are the traditional methods of either renting or owning your residence, but that usually means a bit of commitment to your location.
If you are relocating to maximize your potential as an entrepreneur, it's nice to have the ability to 'test out' a place before fully committing.
In the past, hotels were the only real option for short-term stays. However, nowadays, we have services like AirBnB that have completely revolutionized the way people travel and live.
AirBnB allows people to secure short term housing while avoiding the often outrageous prices that a hotel can charge.
But sometimes AirBnB is not the perfect solution, as the service can also get quite pricey depending on where you are.
Here is the Bloomberg AirBnB-to-Hotel Pricing Comparison: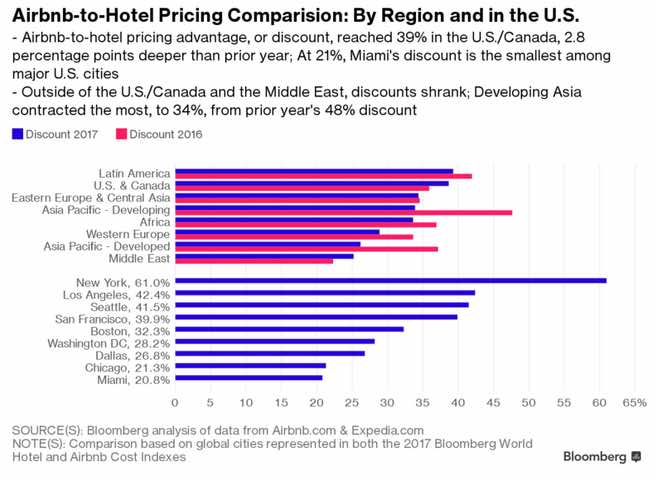 Source: Bloomberg
For many entrepreneurs, short-term living arrangements make the most sense. Because of travel obligations and the need to stay flexible, the higher upfront cost of a short-term rental can actually be cheaper in the long run as there are no long-term contracts or expenses.
Here is Bloomberg's 2017 World Lodging Cost Index:

Source: Bloomberg
Now, if you're looking to buy, Global Property Guide has ranked cities based on price per square meter. Here are the most expensive locations to buy: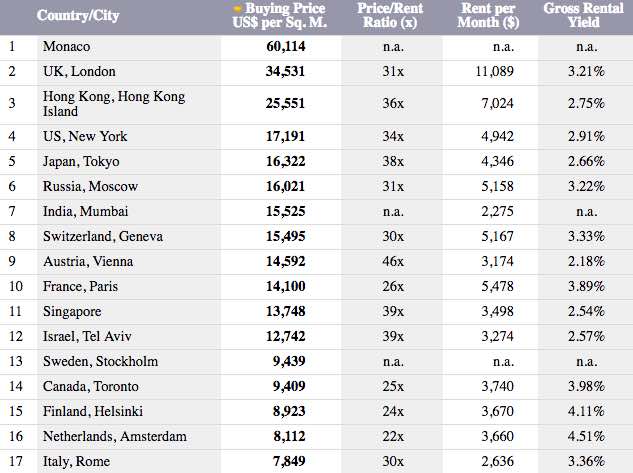 Source: Global Property Guide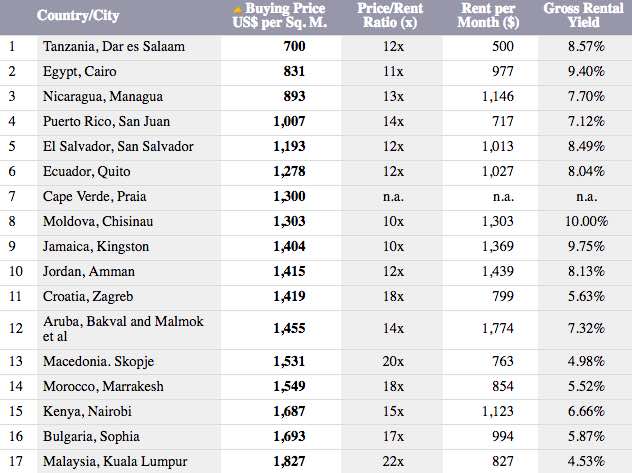 Source: Global Property Guide
Of course, these are just average numbers for those locations.
It's very possible to buy even cheaper real estate. For example, I recently purchased an apartment in a very good location of Cali, Colombia for less than $400 per square meter.

Cali, Colombia.
If we look at Numbeo's Cost of Living Index, we can see rankings based on expenses not including rent or a mortgage. Consumer goods items such as groceries, restaurants, transportation and utilities make up this index.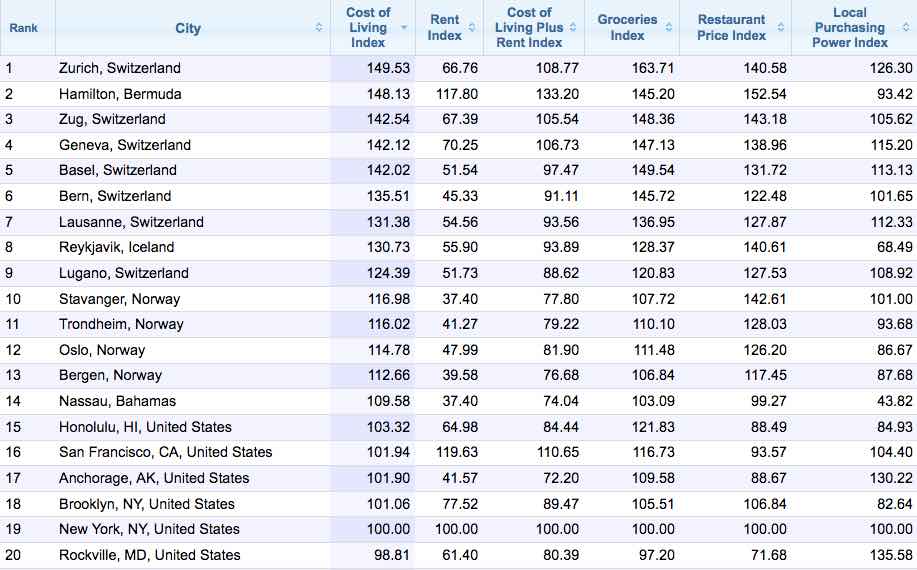 Source: Numbeo
"These indices are relative to New York City (NYC). Which means that for New York City, each index should be 100(%). If another city has, for example, rent index of 120, it means rents in average in that city are 20% more expensive than in New York City. If a city has rent index of 70, that means in the average in that city rents are 30% less expensive than in New York City."
Here are the cheapest places on that index: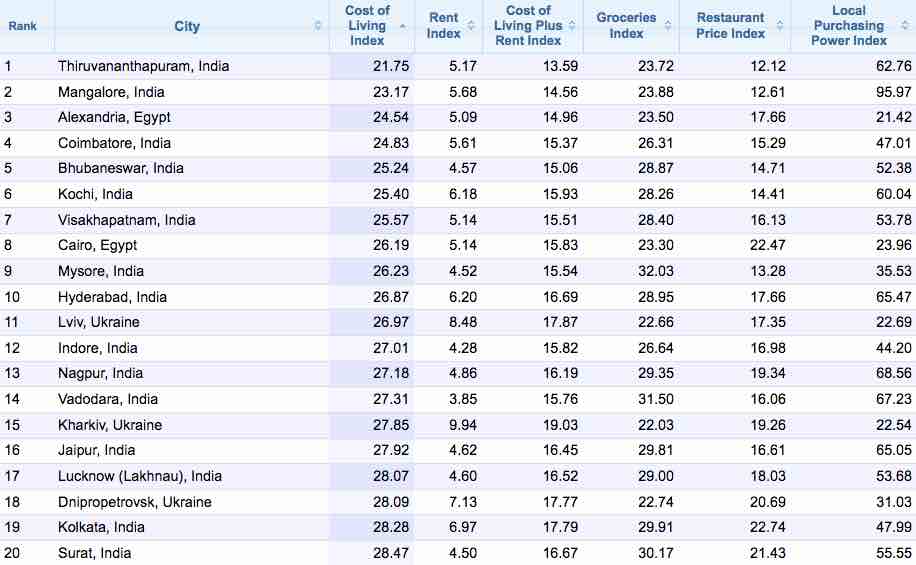 Source: Numbeo
But just saying something is "cheap" or "expensive" is not enough to really get a solid indication of what true prices are.
In order to really find out what the cost of living is, you have to compare earnings to living expenses.
That's because the average income of a city will sway property prices.
It's entirely possible that a "cheap" apartment in Hong Kong might be $3,000 per month to rent.
Meanwhile, an "expensive" apartment in Cairo could also be $3,000 per month.
What the population of the city can afford determines if a market is cheap or expensive for the local society.
Incredibly, we are living in a time where you can live anywhere in the world, but be making money from a different location.
So, in theory, you could be making a Hong Kong salary while living in Cairo. This is what is known as an 'arbitrage' situation.
Investors will use arbitrage situations when buying and selling different investments to take advantage of price discrepancies.
But, now that we have the internet and people can work from anywhere in the world, we can take the same exact concept and apply it to our lifestyle.
So, let's compare the real estate price to income ratio, starting with the most expensive: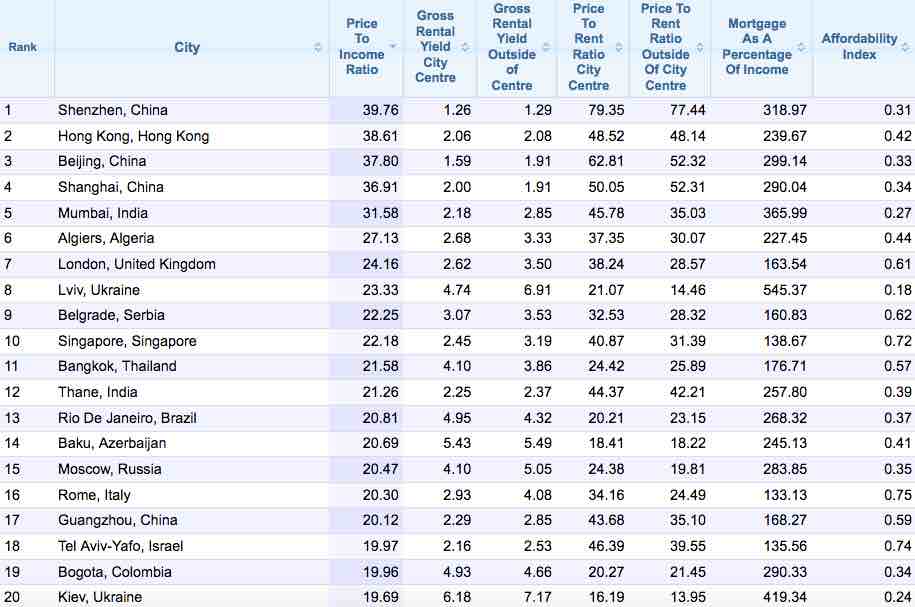 Source: Numbeo
Based on the real estate price to income ratio, here is something very interesting …
There is not one US city in the top 20 most expensive places to live.
and…
Every single city in the top 20 least expensive places to live are in the US.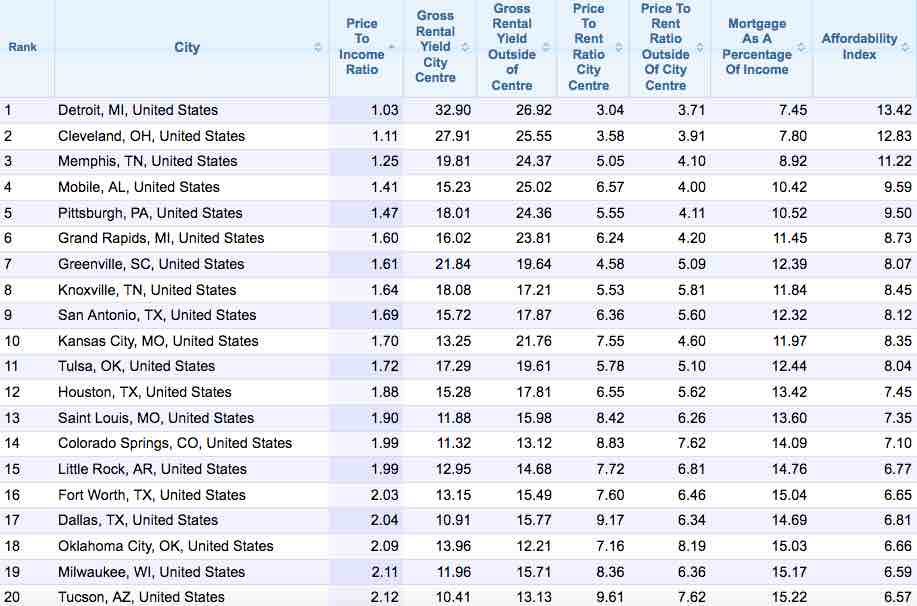 Source: Numbeo
If you plan on living in the same location that you source your income from, then the United States is the best location for this. I must say, that this actually surprised me.
If you can source your income from a location where you do not live, then you can get very creative.
Sourcing your income from a place such as Zurich, Switzerland, while living in Mangalore, India would be an excellent way to maximize your buying power.
(A close friend of mine sources his income from San Francisco, California while living in Kiev, Ukraine!)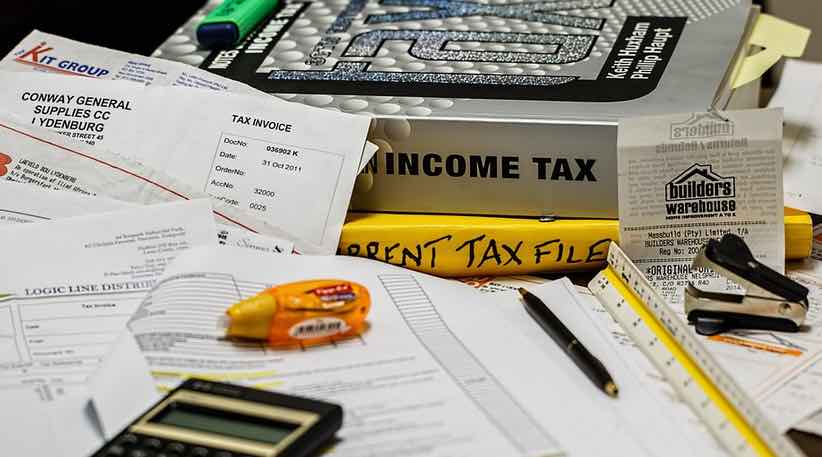 Taxes
Of all topics, I don't think anyone likes to talk about this. But, the reality is that we all have a tax burden of some kind.
The following is neither tax advice nor a thorough review of all the options out there.
Instead, this is a brief comparison of a variety of different options.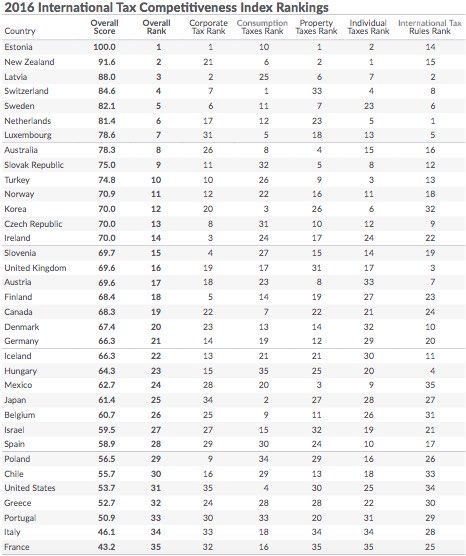 Source: Tax Foundation
"For the third year in a row, Estonia has the best tax code in the OECD. Its top score is driven by
four positive features of its tax code. First, it has a 20 percent tax rate on corporate income that
is only applied to distributed profits. Second, it has a flat 20 percent tax on individual income
that does not apply to personal dividend income. Third, its property tax applies only to the value
of land rather than taxing the value of real property or capital. Finally, it has a territorial tax
system that exempts 100 percent of the foreign profits earned by domestic corporations from
domestic taxation, with few restrictions." – Tax Foundation
While Estonia may be ranked number one by the Tax Foundation, many entrepreneurs also find non-OECD countries like Hong Kong, Singapore, or Panama to be great options.

Source: KPMG

Opportunity
While costs are certainly a major concern, entrepreneurs also have to consider their surroundings when choosing a location to become successful.
A city's services and infrastructure must be robust and efficient to support its resident's needs.
And those residents must be a productive group who attract other talent and capital.
According to PricewaterhouseCoopers, London takes the top spot this year: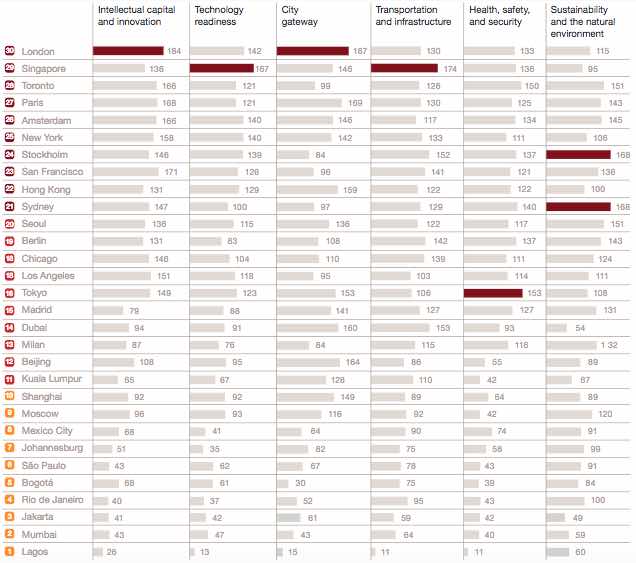 Source: PwC
If we looked at growth in general, then Beijing, Shanghai, and US cities are the best places to be.
Living in these areas would put you in 'the path of progress.'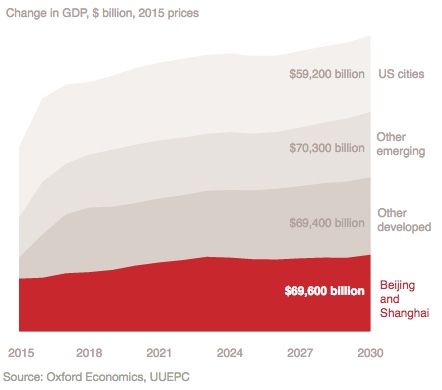 Source: PwC
Overall economic freedom is also extremely important to ensure that opportunity is actually accessible.
The Heritage Foundation has ranked all countries worldwide, with Hong Kong taking the top spot.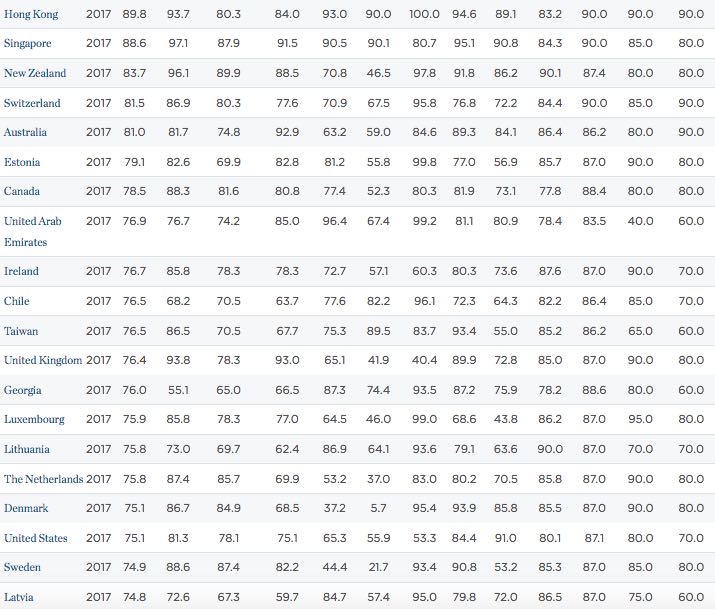 Source: Heritage Foundation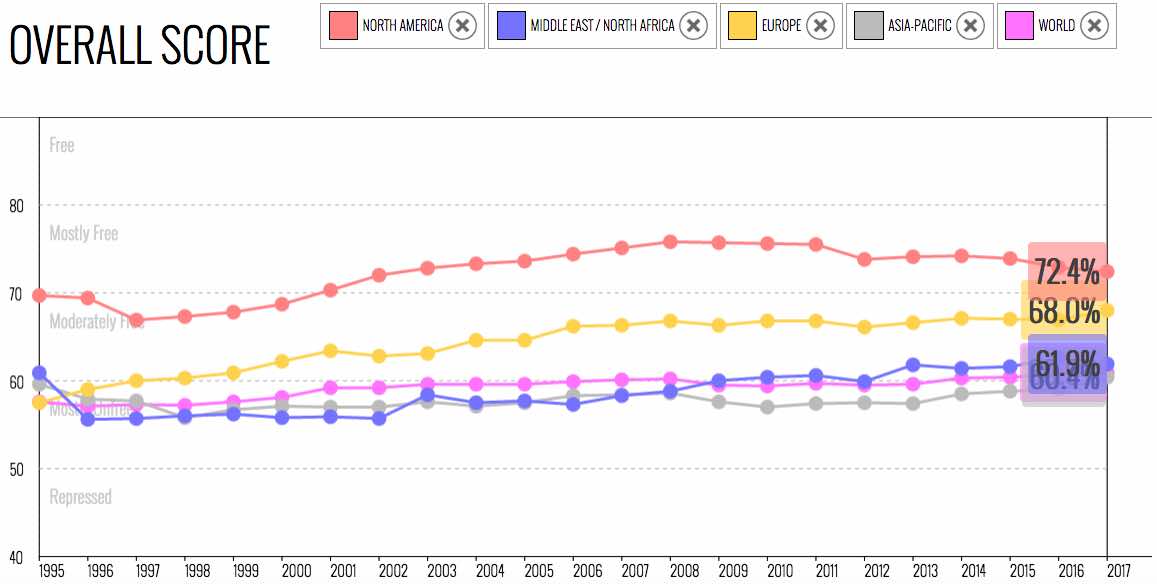 Source: Heritage Foundation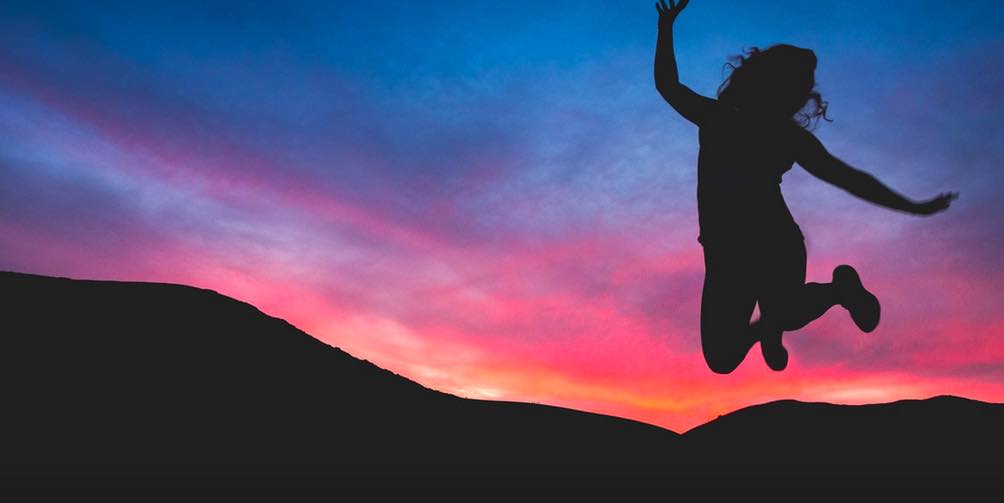 Quality of Life
At the end of the day, most of people care about the actual quality of their life.
It's not just freedom, but it's happiness and satisfaction.
According to the World Happiness Report, Norway grabs the top spot: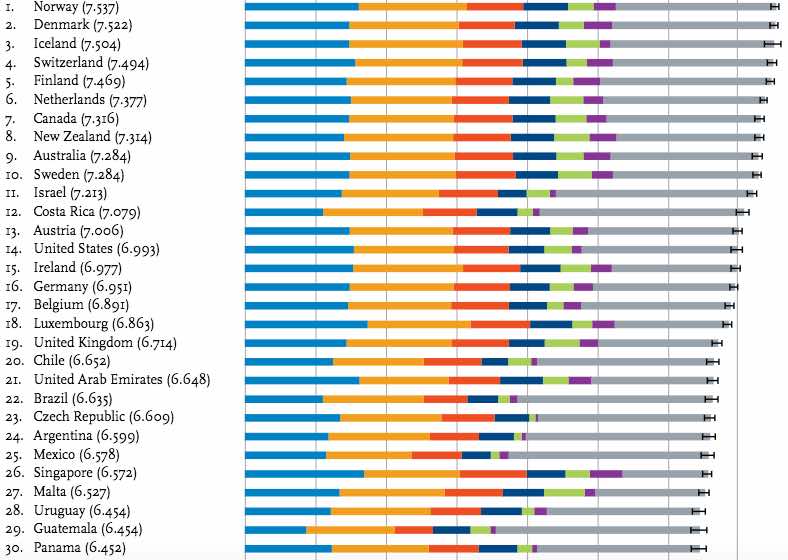 Source: World Happiness Report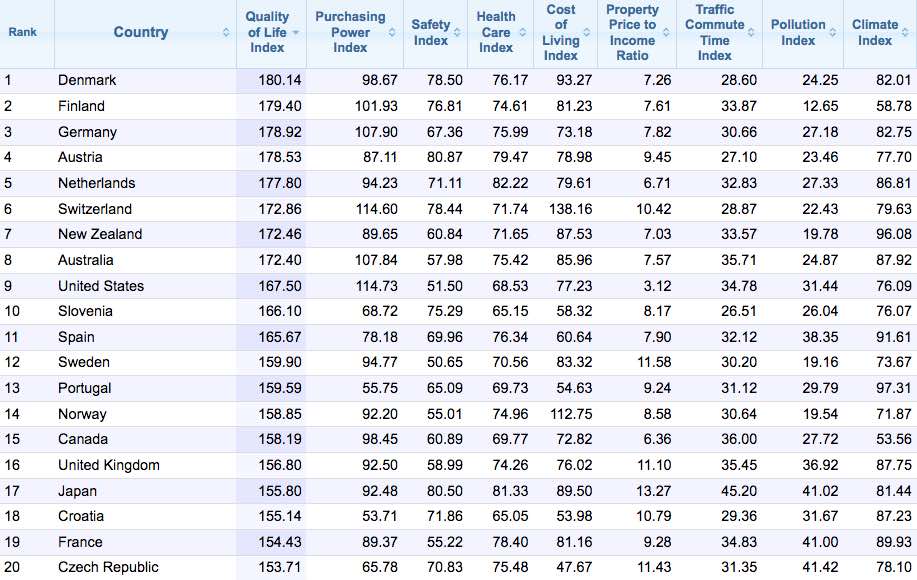 Source: Numbeo
So, where are the Best Places In The World For Entrepreneurs To Live ?
It all depends.
However, we can say that there are a handful of countries that consistently rank towards the top.
Depending what your personal priority is – be it weather, taxes, freedom, or community – there is definitely a place out there for you.