"Viwus," she asked? 
"Yeah, a virus is something that makes people sick. And if sick people touch other people or things, then the virus can spread. So, it's best to avoid people and places that might have the virus," I explained. 
"Playground have viwus?" 
"Well, I'm not sure if the playground has a virus. But if sick people were playing there, it's possible that the virus could be on the surface of the playground. So, to be safe, it's best if we avoid touching anything that might have the virus," I said.
She scrunched her 2-year-old nose, looking at me, "Playground closed, Daddy?"
"Yeah. Playground closed. I know," I said, looking at her not really sure what to say, "The world is a crazy place right now and we're just going to have to get creative to have fun!" 
And that's exactly what we've been doing the past couple of months. Figuring out new ways to burn off her toddler energy, while at the same time attempting to explain a situation that I don't even understand.
(No need to email me about how COVID-19 can or can't spread… I was simply explaining to my daughter why there was caution tape wrapped around the playground, as if it was a crime scene… luckily she didn't ask my why she couldn't go to the playground even though children under the age of 5 have a 0.005% death rate from COVID-19.)
I know I'm not alone here with this situation we're all in. We've all had to figure out new ways to go about our lives. The superficial stuff – like how to entertain a toddler – is relatively simple. All I have to do is find a way to make my daughter laugh, learn, and enjoy the day. I count that as a win.
But, the other stuff… the stuff that is much more difficult to figure out… that's where huge opportunities exist right now. 
How many industries are there that have been completely turned upside-down from this pandemic? Perhaps every industry on earth? Our world is so interconnected that there is an incredible butterfly effect that is still in motion, even though we are already several months into this event. 
In fact, there are many more developments coming in the near future, that will be caused by this pandemic, that we can't even foresee yet.
Although we may not be able to predict exactly what is coming, we can see several industries right now that are undergoing massive change. Travel, healthcare, and education are probably the most obvious right now, as they have been dramatically disrupted over the past several months.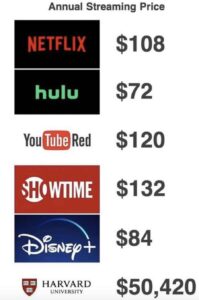 As any investor or entrepreneur knows, disruption is usually terrifying for the majority and extremely exciting for the minority. That's because the minority sees the incredible opportunities that are available with big changes. Meanwhile, the majority is simply afraid of trying something new or changing their habits. 
The changes that will be coming to travel, healthcare, and education are massive. In fact, I'd be willing to bet that over 50% of all companies in those three industries will be out of business within five years if they don't dramatically pivot. 
I've already mentioned psychedelics (one niche within the healthcare industry), which I believe will have explosive growth in the immediate future. I'm so bullish on psychedelics that I'm personally investing in a variety of companies, and I'm even starting two companies to focus on the industry. (More about both of those companies in the coming months, with details about how I am building them.)
Education is a mess. The University system in the United States has turned into a racket scheme that plays upon the ability for students to leverage their borrowing power against their learning experience. Of course, the quality and type of education doesn't necessarily correlate to the student's potential earning power post graduation.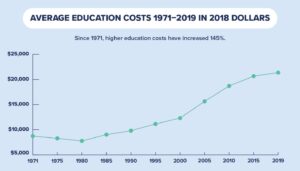 Even when inflation is taken into consideration, the rise in higher education costs has skyrocketed over the past several decades. Source: Credit
Travel is probably the most obvious industry that has been absolutely devastated. Airlines, cruises, hotels, rental cars, and every ancillary service that goes with those services has almost come to a complete stop. The two largest bankruptcies of 2020 are both travel related companies: Hertz and LATAM.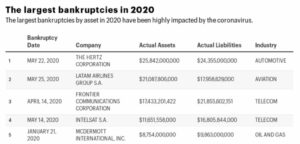 Source: Fortune
Advantage Rent A Car, Aeromexico, Avianca, and Dollar Thrifty Automotive Group are other travel companies that have also filed for bankruptcy in the first half of 2020, and there are even more that are in jeopardy.
To be fair, many of these companies were hanging by a thread before the pandemic hit. When different parts of the world started to shut down to prevent the spread of COVID-19, these companies simply couldn't survive.
But, the world will go on, and travel will come back. Airlines will continue to transport passengers, rental car companies will continue to rent vehicles, and people will still want to go on vacations. The question now is:
"What will be different?"
Obviously, we'll all be adjusting our hygiene standards and keeping much more aware about the person we're sitting next to. We'll also be thinking a lot more about our final destination and if the entire journey is even worth it in the first place.
For example, let's say that you live in Los Angeles and you want to take a vacation for five days. Last year, you might have considered going to New York to check out the city and stay in a hotel for a couple days. But now? Do you want to go through the hassle of all that travel, and then once you get there, staying in a hotel that doesn't have at-home amenities?
Or, would you rather just rent a house in the mountains that is a several hour drive from LA, where you can hang out, eat, and enjoy the house you're staying in?
The answer depends on the person, but I'm guessing that most people are going to be choosing travel options that are closer to home and/or have a home-like setting. The idea of having to 'mask up' without at-home conveniences in a foreign place versus relaxing in a home-like setting is something travelers are going to seriously consider.
AirBnB has reported trends that reflect these changes in travel decisions. Reported from The Verge, "Since the beginning of the pandemic, over a half of Airbnb's bookings are at locations within 200 miles of the customer's location… People are shifting their holiday travel "from airplane to car" according to the company's CEO."
This isn't just the United States, either. In Colombia, where we have investment properties, demand for short term rentals is strong from the local population. I guess no matter what part of the world you're in, everyone needs a break from sitting inside their home with the family all day!
What will the travel industry look like next year? A couple years from now? Obviously no one knows, but the changes in people's travel trends go beyond virus avoidance measures. Travelers what unique and authentic experiences that they can share with their close friends. The truth is that traditional hotels don't provide that ambiance.

True to my 'everything is cyclical' theory, motels across the US may come roaring back in popularity as traveler choose cars over planes. Those same travelers will also be choosing rental homes (AirBnB, VRBO, etc.) and motels.
That bodes well for real estate investors who have properties in unique locations or that have more family-style accommodations. Interestingly, motels that have been experiencing a resurgence over the past couple of years are now very attractive to travelers. They allow guests to be removed from the crowd, while still providing enough amenities to offer value for a family or group of friends.  Plus they're super unique and strange in a fun, hipster way.
That 'motel vibe' is something we are trying to recreate in one of our real estate projects in Cali, Colombia. Construction started late last year, just in time for the pandemic to hit… but we've only been set back a couple of months.
The final project will consist of a dozen apartments that range from 1bed/1bath to 4bed/3bath, with several different common areas. This will allow guests to enjoy time with their group of family and friends without feeling cramped inside of a small space. One of the units will even have it's own outdoor balcony that we're going to turn into a lush garden: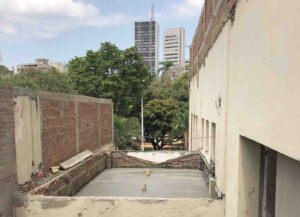 This will be the private garden for one of the units, which is still under construction.
The building itself has been completely remodeled and will look nothing like it did when we started. Recently, we started to install a brick facade to the front. We'll soon be installing custom insulated windows to help with temperature control and sound pollution.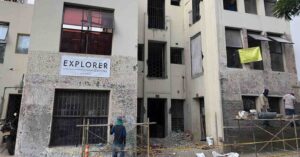 The above photo was taken a couple weeks ago, but you can see that we've essentially torn down everything but the walls… and we even tore down a bunch of interior walls to reconfigure the floor plan. Here is what the outside looks like as of yesterday: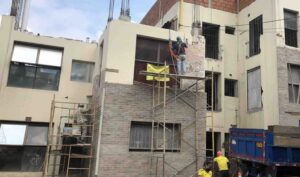 We're working on creating an awesome experience for our guests which includes digital entry systems, high efficiency appliances and building materials, well thought-out floor plans, high speed internet, and a reserve water tank (just in case the power goes out). Here is the massive underground water tank, which should be enough for the entire building to cook, clean, take showers, etc. for several days: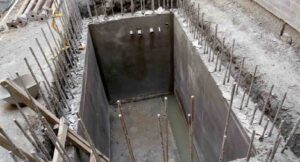 We certainly don't plan on power going out, but we want all guests to feel like they're staying in an awesome self-contained fortress. Feeling safe and worry-free is a very important part of the experience when you're staying somewhere. That's why we've also included some great design elements. Like this stairwell, which is being built right now: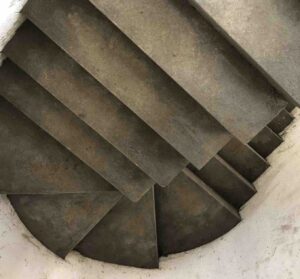 Along with creative design elements, we also don't want guests to feel cramped. In addition to the efficient floor plans, garden areas, and high quality finishes, the units also have tall ceilings. As in, you can fly a drone around inside: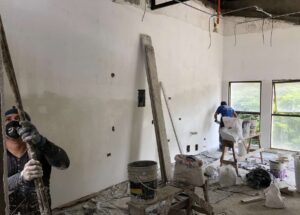 Check out the guy in the corner, wearing the blue shirt, for scale. Those wires hanging down above his head are where we'll have a drop ceiling.
If all goes as planned, we'll be opening up our building before the end of the year. That will allow us to capture potential guests that will be looking for a place to escape during the holidays. Currently there are very few other options, as many major hotels have shut down operations and may not be opening up anytime soon.
Recently, travelers in Colombia have chosen to stay at short term rental apartments and homes, avoiding hotels all together. Our other rental properties in Colombia have been at near 100% occupancy over the past couple of months, as locals have been looking for domestic vacation options – just like in the US.
We're currently searching for more projects that we can transform into modern, yet livable spaces. While we were initially targeting the short term rental market (and still plan on that strategy), we're realizing that there may be more and more mid-term renters. With many companies allowing their employees to work from home, we anticipate a whole new group of digital nomads.
This new group is not the young twenty-something with little money to spend. Instead, we think we'll see more families with higher income that choose to travel and work. The expense of staying in location, such as our building in Colombia, will actually cost less than living in the US or similar priced market.
Will this be a new trend within traveling? Where middle-aged professionals, who have steady remote employment, travel with their families around the world, and actually spend less money traveling than their previous living situation?
Time will tell… and I'll let you know how that goes!
…if our project doesn't work out, maybe we can bring back this trend. Anyone know how to fly one of these things?

This is literally a Winnebago helicopter. How have I never seen this?! My new dream vehicle.