Marijuana ETF – Too Good To Be True?
It seems like there is an ETF for everything these days. You name it – gold, corn, clothes, oil, banks, and even a gender diversity fund ($SHE) – there is probably an ETF.
And now, finally, there is a marijuana ETF.
Exchange-traded funds give investors the ability to buy one stock, but get exposure to an entire sector. That's because an ETF holds a variety of assets under one umbrella. Those assets are then rebalanced throughout the year to give investors the best exposure to whatever industry the ETF is investing in. And of course, there is a small fee (usually less than 1%) that is wrapped into the ETF itself.
So, a marijuana ETF sounds like a perfect way to dip your toe into the cannabis industry, right…?
Well, not so fast. If you are a US citizen, then you probably can't buy this new ETF.
The Horizons Medical Marijuana Life Sciences ETF was launched on April 4th, 2017 in Canada. It trades under the ticker HMMJ.
If you're Canadian or a non-US citizen, then you're in luck. This stock looks very attractive.
If you're a US citizen, like me, then you're probably out of luck.
I won't dive in too deep, but here is the short explanation… There is a law from the 1930s that 'protects' US investors. This law, which is nearly one hundred years old, is very confusing and essentially has created a huge grey area. Erring on the side of caution, most US based brokerages have decided to prohibit US investors from buying foreign ETFs.
By the way, the first ETFs started in the mid-nineties. So, this one hundred-year-old law is regulating the trade of something that is 20 years old. Makes sense, right…?
(I have called a half dozen US brokerages and they have all told me the same thing: "No. We do not allow our US customers to buy this ETF." However, perhaps you may have different luck? Give a call to your brokerage and let me know what you find out.)
Well, instead of complaining, I'm going to show you how to invest in the same stocks this ETF holds without actually buying the shares of the ETF.
Here is the profile of the ETF:
"Horizons Medical Marijuana Life Sciences ETF ("HMMJ") seeks to replicate, to the
extent possible, the performance of the North American Medical Marijuana Index,
net of expenses. The North American Medical Marijuana Index is designed to provide
exposure to the performance of a basket of North American publicly listed life
sciences companies with significant business activities in the marijuana industry."
We can just look at this 'basket' to replicate what the ETF is holding: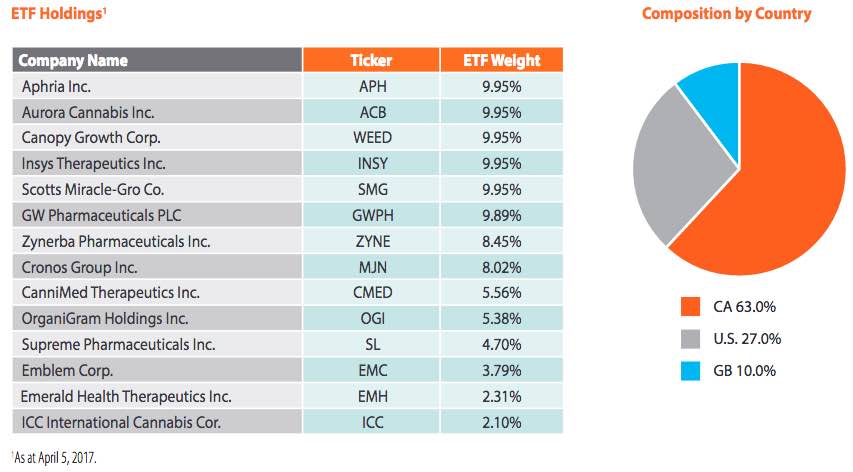 Source: HMMJ