In 2013, Russian billionaire Dmitry Rybolovlev purchased the 500-year-old "Salvator Mundi," painted by Leonardo da Vinci for $127.5 million.
Yesterday, Rybolovlev sold that same painting in an auction, with bidders battling for nearly 20 minutes, for $450 million.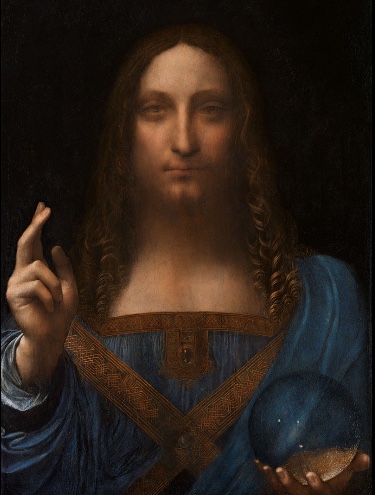 Leonardo da Vinci's "Salvator Mundi"
That's a 252% gain in just four years. Annualized, that's a return of 63% a year… for a painting!
And while that is an incredible return for the Russian billionaire, the really incredible thing is that price tag – $450 million.
That's $150 million more than the most expensive painting ever sold, which was "Interchange" by Willem de Kooning.
Perhaps you don't care about these artists and paintings, and that's fine.
But, let me put this art sale in perspective for you…
Yesterday's sale of "Salvator Mundi" is 50% higher than the most expensive painting ever sold. To say that this is a record sale is an understatement.
Imagine a record being broken by 50%.
If it was running… that's like someone finishing a marathon an hour before everyone else.
If it was basketball… that's like someone scoring 20,000 more points than the current record holder Kareem Abdul-Jabbar.
What I'm saying is… it's very rare for a record to be completely shattered, whether it's the sports world, a business accomplishment, or the price of a painting.
Especially because the estimated price of this painting was $100 million. It sold for 4.5x times its estimated value!
So what does this mean?
As you may know, I'm a huge fan of investing in art …but ONLY under the right circumstances.
The sale of "Salvator Mundi" may be a bellwether to a larger story, which is our supply of money in the world. Or rather, the ability for people to buy assets for insane prices.
We are seeing it everywhere, from real estate to jewelry, all sold or for sale in 2017.
If you're curious about the most expensive real estate in the world currently for sale, it's in France. And its asking price is $413 million. That's actually $37 million LESS than da Vinci's painting!
'Things' are clearly expensive right now.
Remember, that's usually what happens at the top of a credit cycle. As people's wealth expands, they spend on assets. For a little while, this further propels asset prices higher and higher.
Obviously, the person who sells something for a high price then has more purchasing power themselves… which allows them to go spend more money on another asset. This can continue for a while, but not forever.
Be patient. Don't forget that there are many assets out there that are selling for rock bottom prices right now (lots of opportunities in the commodity market).
Oh! I almost forgot…
In case you were wondering why I said 'Leonardo da Vinci Just Blew Away The Investing And Art World (Again)'…
That's because the Mona Lisa, which was painted by da Vinci is currently valued at over $1 billion… with some saying it's 'priceless.'
Leo did it again.