In 1878 Thomas Doolittle invented a process that changed the world – he figured out how to make copper strong enough to stretch into wire without breaking. Over the next several decades, with the help of people like Thomas Edison and Alexander Graham Bell, copper wire was laid below ground and in the air across the US, and eventually around the world.
With the spread of electricity, copper consumption increased dramatically in the US, with an increase of 1/3 in 1899 alone. Copper mines throughout Montana, Michigan, and California boomed as the demand for the orange metal exploded.
Fast forward an entire century and copper has only increased in value and importance around the world. In the US the average person consumes over 13 pounds of copper per year, which is only forecasted to increase. As the world shifts each year towards a more electrified society, copper consumption isn't going to stop anytime soon.
This trend is nearly a certainty, which is why insiders are already making big bets on copper.
Copper's Certain Rise
When it comes to investing, there are not many things you can say with certainty. There always seems to be an exception to an assumption, and that exception is what we call risk. The bigger the exception, the bigger the risk.
When it comes to the future of copper, there's really only one exception to its certain rise: If humans discover a cheaper, better performing, and more durable substance than copper. Could a high tech laboratory spin out some new kind of technology? Sure. But if that happens, you'll have bigger things to worry about than any money you could lose in a copper investment.
In the short term, copper prices could go lower. Maybe for a year or more. But the lower it goes, the higher it'll likely rebound. It's simple supply and demand economics. Lower prices will decrease copper production, until demand increases and prices go up, incentivizing producers to bring more copper to the market.
So, if copper prices go down in the short term there is only going to end up being more demand, as society is not shifting away from electrification in favor of fossil fuels.
"Electrification is expected to increase annual copper demand to 36.6 million metric tons by 2031, with supply forecast to be around 30.1 million tons, creating a 6.5 million ton shortfall at the start of the next decade, according to consulting firm McKinsey & Co."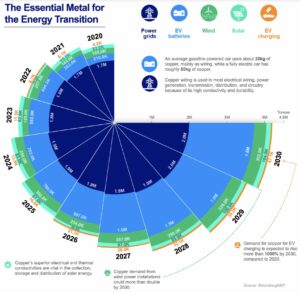 Source: Visual Capitalist
Insider's Big Bets on Copper
So far in 2023, "mining companies have announced more than $65 billion in pending and completed deals… That number is nearly double the $36 billion announced in the same period of 2022, and the highest amount to start the year since 2012, when China's breakneck growth led to a surge in deals." –WSJ
Most notably is the acquisition of Australia's Newcrest Mining by US based Newmont for $17.5 billion. Although the deal is not complete, it will be the biggest M&A deal ever in the gold-mining industry.
"We will still be clearly known as a gold-mining company," Mr. Palmer [of Newmont] said in an interview. "But we'll have a good exposure to copper and a growing exposure to copper, and certainly that rationale is landing with everyone that we engage with." –WSJ 
Some of the top investors are also starting to get ready to make copper bets. Stan Druckenmiller, Goldman Sachs, and Jefferies are all bullish on the metal, especially coming out of 2024 and beyond.
Even China is preparing to consume more copper, as the country is currently expanding smelting capacity.
Ways to Make Big Bets on Copper
By far, the easiest way to invest in copper is with $COPX, which is the Copper Miners ETF. Although it has a somewhat high management cost of 0.65% per year, it's probably worth the fee to avoid having to pick individual copper mining companies. $CPER and $JJC are other stocks that can give you exposure to copper futures, if you'd like to stay away from the potential volatility of copper miners.
Selecting individual copper miners could be the most lucrative over the long term. Freeport McMoRan ($FCX), BHP ($BHP), Southern Copper Corp ($SCCO), and Teck Resources ($TECK) are all companies you should keep your eye on. (*Teck is currently being courted by Glencore for acquisition.)
Don't worry, you have plenty of time to make this investment. In fact, you should probably wait until we get into 2024 before taking any big positions. Short term financial turmoil could send copper prices lower, as investors liquidate stakes and global demand contracts. However, when things reverse course, copper prices are nearly certain to skyrocket.