In March of 2009, the DOW bottomed at 6,266 points.
That was more than 50% lower than just a year prior.
Investors literally thought that the financial world was ending.
Some of the biggest names in finance went under and people's life savings and home equity evaporated into thin air.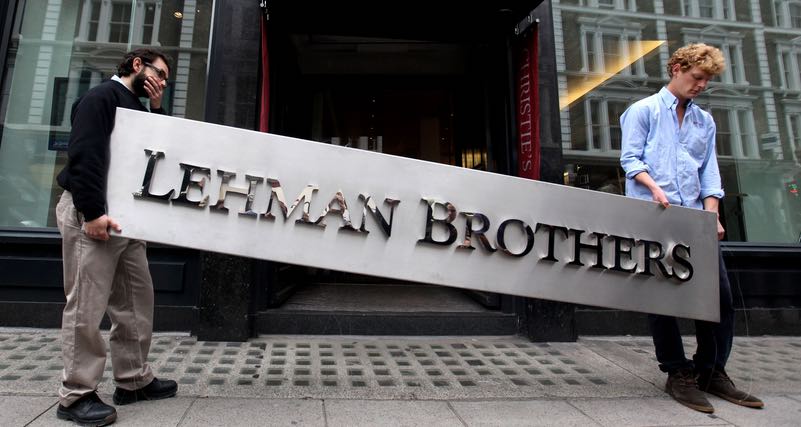 But… some investors knew something else…
Banks, insurance companies, and car manufacturers were being bailed out by the federal government.
QE (quantitative easing), which is basically creating money out of thin air, was being implemented.
Interest rates were being slashed.
Pretty much anything you can think of – whether it was right or wrong – was being done by the government to boost the economy.
For those who actually realized what was going on, they knew that 2009 was a perfect time to invest.
But it was hard to see all of that at the time. People lost jobs, their homes, and felt there was no hope.
Meanwhile, the government was literally saying, "Hey, we're going to print money, lower interest rates, bail out major corporations, and do everything possible to make the economy come roaring back."
Of course, hindsight is 20/20. It's easy to look back and realize what happened.
We're now in one of the longest and most successful bull markets in modern financial history. The governments, central banks, and international finance community really pulled out all the stops to make a recovery happen.
(What the ultimate repercussions for some of those irresponsible decisions will be is still yet to be determined.)
Looking back, we can say, "Wow… the government basically told us exactly what they were going to do!"
That rarely happens in the investing world.
Usually, the best investors have the best forecasting skills. They are able to predict what is going to happen next, and then they make investments that will make the most money based on those predictions.
Well… here is another rare opportunity…
The government of China is giving us something even better than what the US government did.
China released a statement at the beginning of 2017 that said they are going to spend $360 billion through 2020 on renewable power sources.
And that's just until 2020…
"The Chinese government will spend upwards up $2.5 trillion over the next 15 years on clean energy projects…" 
We all know that China is known for some pretty bad pollution, and the international community has been putting on the pressure to clean up their act.
I can attest to this pollution problem, from the last time I was there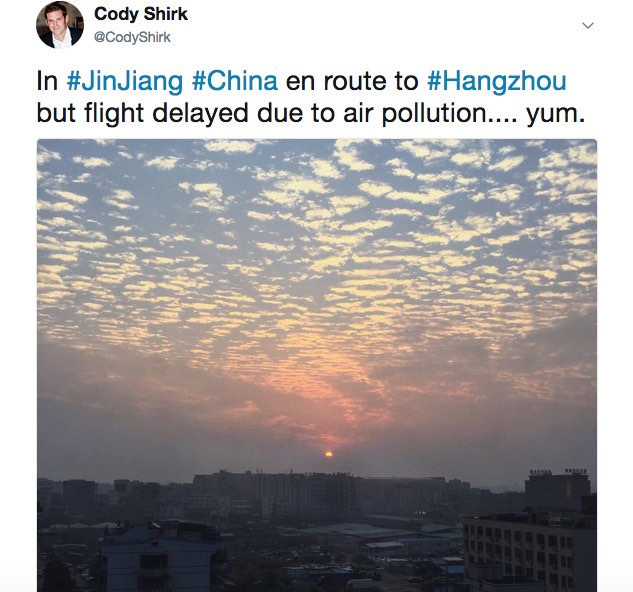 But China knows it has a problem and it's doing something about it.
This past month, Ernst and Young ranked China as the most attractive renewable energy country. This means that it's also the most attractive for investors.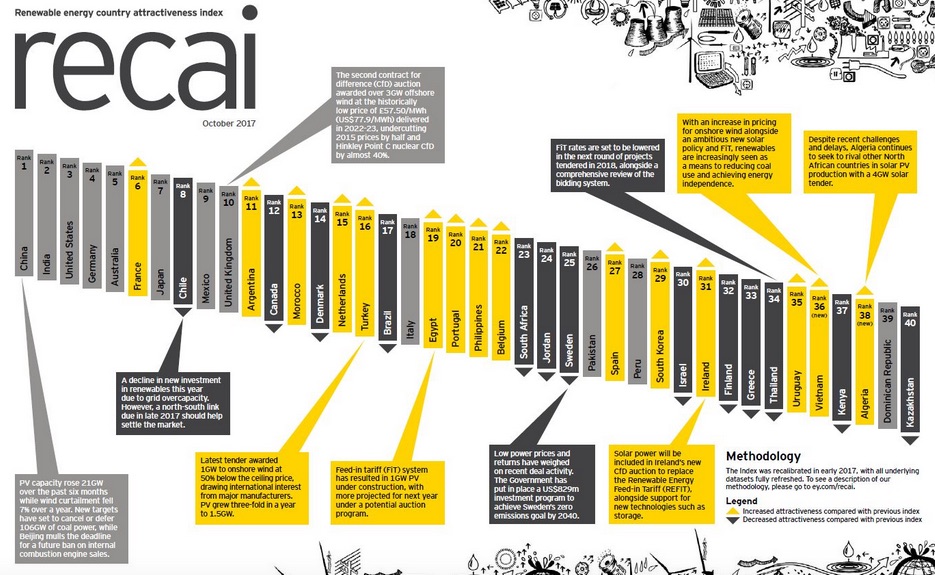 Source: EY
In 2015, China was erecting a new windmill every hour of every day. That's insane!
And for solar…
"More than 2.5 million people work in the solar power sector alone in China, compared with 260,000 people in the U.S., according to the most recent annual report from the International Renewable Energy Agency."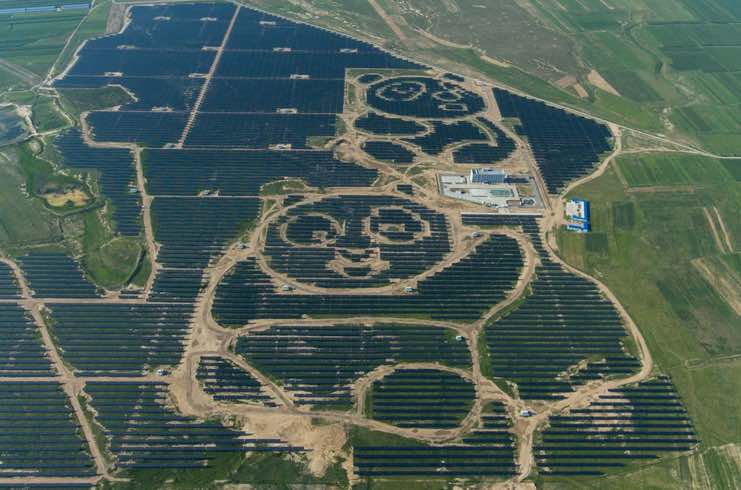 Source: WP
A massive solar farm in China, shaped like a panda.
"China's hottest new project is a giant floating solar energy farm located in the eastern province of Anhui.
"Covering about 100 square miles, it is the largest floating panel facility in the world. It has the capacity to produce enough energy to power 15,000 homes, according to Sungrow Power Supply, the company behind the farm." –CNN
One of the incredible things about China is how they get massive projects completed.
"My experience with China is when a numeric target gets written down, it gets implemented," Mr. Myllyvirta said, a research analyst at Greenpeace, who is based in Beijing. "It doesn't always get implemented in the way you like, but it does get implemented." –NYT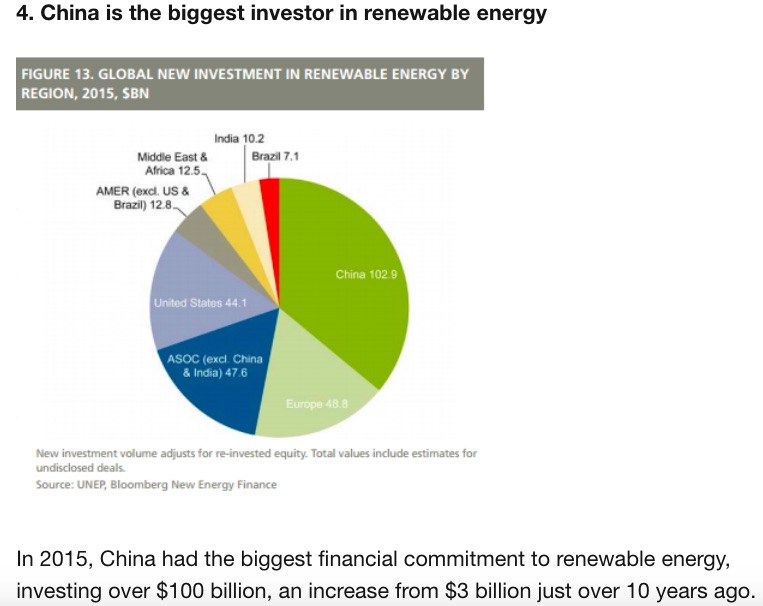 Source: WF
China is telling us that they are going to be giving out money to companies that can provide clean energy.
China is also looking for solutions to clean their air and water.
You can approach this three ways:
Find companies that are publicly listed that you can invest in. This is by far the easiest way to invest, but will have the least return.
Find private companies in the US and in China that are positioning themselves to specifically sell their products or services to China. This is much more difficult, but can lead to massive returns for investors.
Start your own business now that is directly targeting environment issues in China and offers solutions.
The Chinese government is yelling. "WE ARE GOING TO GIVE OUT TRILLIONS OF DOLLARS TO WHOEVER CAN HELP FIX OUR POLLUTION PROBLEMS!!!"
Who can answer that call?