The ten year value change of rare whisky has exploded for an annualized return of over 58%, making many 'whisky investors' very happy.
Other assets that have skyrocketed in value include rare coins, art, watches, and cars. Most of these assets have had triple digit gains over the past decade, making a lot of investors very happy.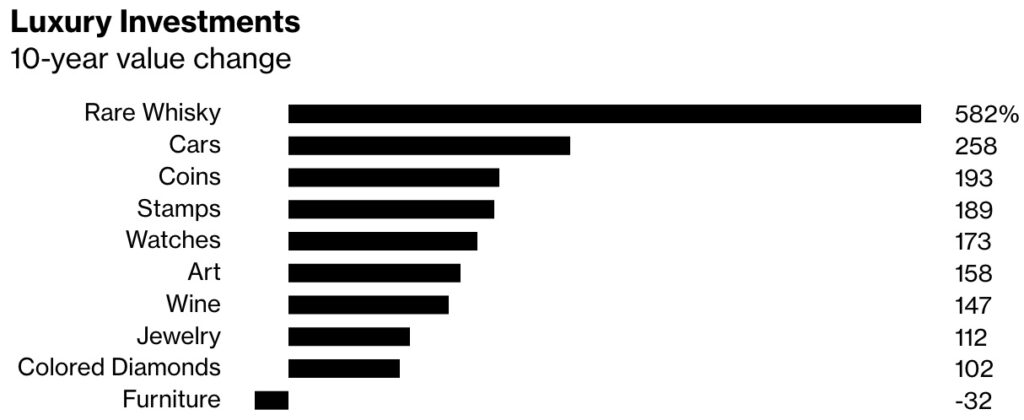 However, what is really going on here? Are these assets actually increasing in value or are currencies (which these assets are valued in) losing their value?
We all know the story about how an ounce of gold today buys a custom men's suit. One hundred years ago, an ounce of gold also bought a custom men's suit. And several hundred years ago, an ounce of gold bought a custom men's outfit. That should be a good reason for you to own a little bit of gold – to maintain your wealth.
Going back to the whisky investors… there are now direct flights from Beijing to Edinburgh, as wealthy Chinese investors have been traveling to Scotland to buy whisky. Of course, that's not the only thing that the Chinese are buying in the UK…
"Last year, China and Hong Kong buyers accounted for about a quarter of purchases in London homes worth at least 2 million pounds ($2.6 million), according to Knight Frank, almost doubling from two years earlier." –Bloomberg
From a US perspective, this is very interesting, as these transactions show the momentum that Asia is gaining in being a dominate world player. Especially because the transaction of a Chinese person buying real estate in the UK completely circumvents the United States.
However, this should come as no surprise, as half of the top ten cities in the world with people who have at least $30 million are located in Asia. At the same time, London is home to the most people with over $30 million – by a wide margin.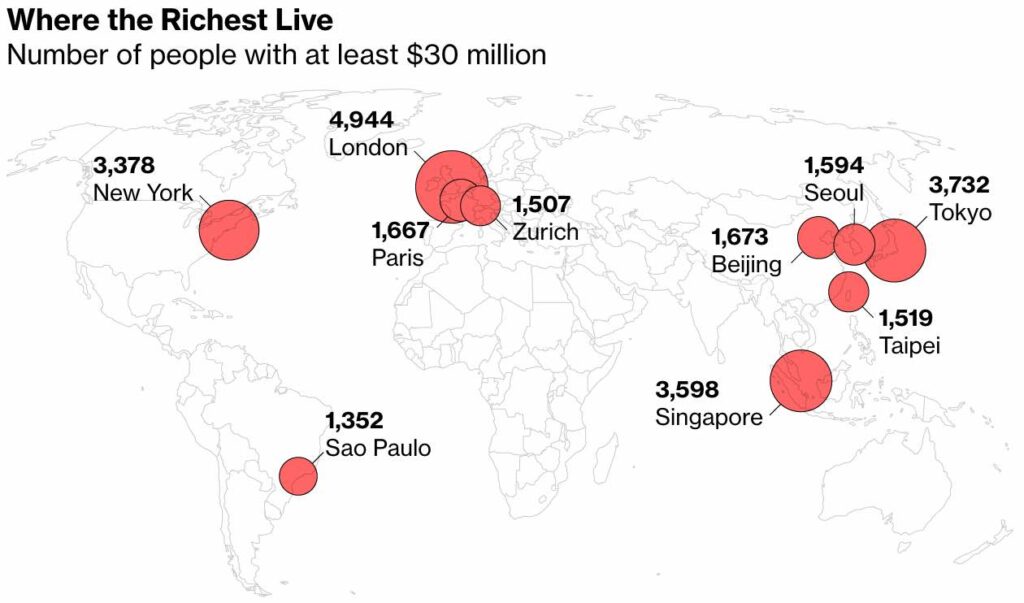 Just goes to show that wealthy people tend to stay in the same circles – literally.
That's one of the reasons we'll be in London on April 6th to attend the Master Investor conference. We've arranged for anyone to receive free tickets to the event and we'll be hosting a dinner afterwards at a nearby restaurant.
You can register for both the conference and our dinner by going here.