Verizon just bought Yahoo, if you weren't aware.
I find this deal very strange; or better a better word is "archaic".
Verizon and Yahoo are both very outdated. Yes, they both have tremendous amounts of value (in terms of physical and intellectual infrastructure), but they have both struggled to really transition into true market leaders.
Personally, I was a Verizon customer for years for my cell phone plan. The coverage was great, but it was expensive and I couldn't use the phone outside of the US without paying absorbent charges.
I just switched to T-Mobile, that cut my bill in half(!) and allows me to use data and text in every country. Wow… an incredibly better deal.

I use Yahoo everyday… the finance portion of their empire.
But who uses Yahoo to 'search' or advertise or whatever you do with Yahoo?
The merger of these two companies looks like a desperate move of survival for two dying behemoths.
It's worth noting that there is a lot of Yahoo that Verizon didn't get… like their Japanese entities, a bunch of cash, and an undetermined  profit from Alibaba (due to an unsettled tax dispute with the US government).
The bottom line here is that this is a perfect example of cheap money. Verizon is like an 16 year-old-kid with a hundred dollar bill burning a hole in his pocket. Gotta buy something!
Oh! I forgot to mention about Yahoo CEO Marissa Mayer. She says she's going to stay with Yahoo, but really we won't know until the deal finalizes early next year. But, if she leaves, she'll walk with $219 million. I'm usually not someone to bash high paid executives… but… I gotta say this is ridiculous.

BlackRock (the world's largest asset manager) agrees. Not with the Verizon/Yahoo deal (don't know what they think of that!), but with their outlook.
They said, "it's going to be really hard for any asset class to give investors returns above a mere 6 percent in the coming years. In fact, according to BlackRock Inc.'s Global Chief Investment Strategist Richard Turnill, most won't even scrape 5 percent."
Of course, they're not talking about the assets I mentioned yesterday.
They did, however, say that, "gold could be good for diversification at these levels."
For the long term, I agree.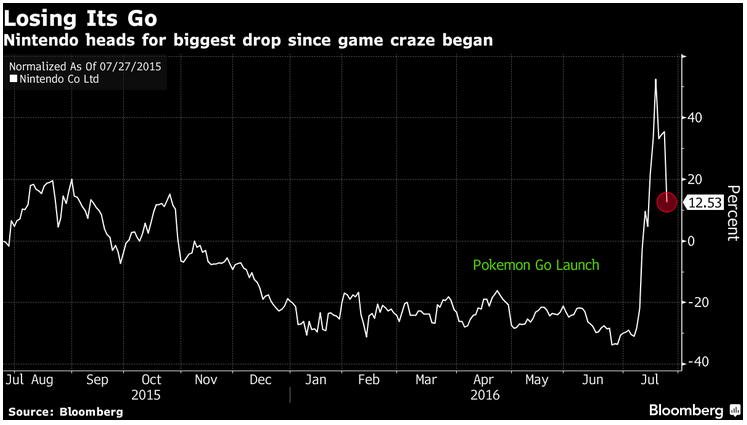 Lastly, Nintendo finally started to correct. Funny though, as everybody and their mom was calling for this one – the drop that is.
The reason I bring up Nintendo at all, is just to show another example of the frothiness of certain areas of the market.
I (fortunately or unfortunately?) wasn't old enough to understand what was going during the dot com bust in 2000, but many analysts have started to compare today's environment with those times. The major difference being that cheap money is fueling excessive values for seemingly useless businesses.That reminds me… the VIX, which I mentioned yesterday – I was weary about the market changing over night because more and more people are realizing the strange level of low volatility.
We'll see where it ends up by the end of the week. Probably flat; if not in the red.
That's because more and more people are investing in the US; especially foreigners who are afraid of the EU, Asia and everywhere else.
I've been talking about it since Brexit. How, even though the US is in pretty bad shape, everyone else is worse.
CNN agrees in this article, "Contrary to the ominous picture painted by Donald Trump, America has once again emerged as a port of safety for investors navigating the stormy world."

It's very volatile – the VIX. But, we were up 66% this morning. That's likely to change. Which way, I'm not sure.
I'll keep you updated on the VIX topic – if there is anything of note to update about.
Otherwise, I'm gonna take a look at Italy (literally) in the next week or two. The country is about to have some serious problems. How can we profit off of that?