Yesterday was the last day of "SuperCar Week" here in Palm Beach.
This last day is basically a big party, where all the exhibitors put their cars on display while event attendees walk around drooling over the millions of dollars of machinery.
It's actually quite impressive. I've never seen so many Ferraris, Lamborghinis, McLarens, Aston Martins, etc., etc. in one place. Not even Monaco!
In addition to all of the super cars and classics, there were also several Teslas and Karmas on display. Both of these car makers – Tesla and Karma – are on the 'fringe' of the traditional car enthusiast world, so it was interesting what people had to say about these cars.
As I stood by the Tesla Model X on display, I overheard several conversations like, "People will never want a fully autonomous car, because people don't trust computers… they want to actually drive!"
There were several other people who just kept walking around the Model X like it was a spaceship, not really knowing what to think or say.
Now, it's important to note that the general demographics of all of these people looking at the Model X were mostly 50 and older. Overwhelmingly, the response to the 'self-driving' feature was negative.
I saw this negative sentiment in a recent Yahoo! article about GM's new autonomous car.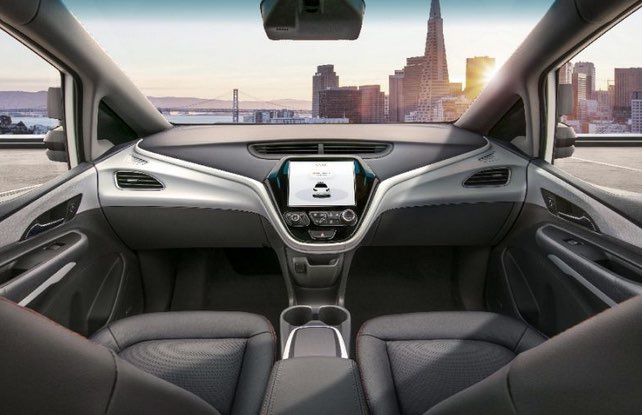 Source: Yahoo!
The comments section of the article is brutal. Here are the top three comments: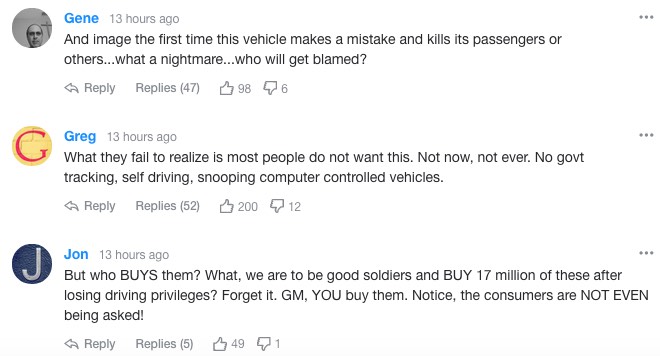 I don't know who is commenting on these articles, but I can tell you that they are completely one-sided and unsubstantiated (as are most online article comments!).

The general assumption of those who grew up driving at a young age, is that future generations will also want to drive at a young age.
This assumption makes sense. Getting your driver's license used to be a big deal. It was a sign of freedom and independence… something that every young adult craves.
However, now-a-days, having freedom and independence doesn't mean you have to have your driver's license, it doesn't mean you need a car, and it doesn't even mean that you need to drive a car.
With ride-sharing apps, you can be picked up and dropped off whenever and wherever you want. And, you can do it without a driver's license and at a much younger age.
Additionally, younger generations have embraced technology unlike those older than them. Smart phones, artificial intelligence, and robots are just as ordinary as the radio was 50 years ago.
The assumption that people don't want to use autonomous vehicles is just flat wrong.
Statistically, people are driving less and less. In fact, "It's especially pronounced for the teens—in 2014, just 24.5 percent of 16-year-olds had a license, a 47-percent decrease from 1983, when 46.2 percent did."
Will everyone stop driving their personal cars next year and suddenly switch over to autonomous driving alternatives?
No.
But, the trend is going towards autonomous driving… whether you like it or not. And the signs are popping up everywhere.
Yesterday, in a New York Times article, signs of this ending era are highlighted.

"While sales are healthy, consumers are actually buying fewer new vehicles. Purchases by individual customers at dealerships — known as retail sales and considered the most accurate reflection of demand — declined slightly in both 2016 and 2017. Some automakers are offsetting lower consumer purchasing by selling more cars to fleets like rental-car companies.
"There are other troubling signs, too. Interest rates have started rising, which increases the cost of financing or leasing a new car. Younger buyers are showing less interest in owning cars than older generations."
By the way, even though Tesla is one of the largest auto manufacturers by market cap, they are NOT present at the Detroit auto show. Quite a statement.
Obviously there are many other contributing factors to this 'era' ending, other than autonomous driving. But in the end, that's where it's all headed – to transportation that is automated with limited human control.
Major car manufacturers see this writing on the wall and they are making moves to prepare, including Ford who just ponied up $11 billion.
"This $11 billion you're seeing, that means we're all in now," Executive Chairman Bill Ford told reporters in Detroit. "The only question is will the customers be there with us and we think they will."
In the same interview, Bill Ford talks about autonomous cars and the challenges they are facing, "The technology will be there before these other issues are answered."
–
So how do you take advantage of this trend?
For starters, you can invest in car companies that are aggressively investing in these technologies. Ford, BMW, and GM have been making huge investments in this space… although each of those companies have their own individual challenges.
Or you can take a more fundamental approach and invest in the actual materials that these vehicles will be consuming. With the rise of electric cars, copper, cobalt, lithium, and other rare earth metals will be used more and more.
You can also look for companies that will be using vehicles as a commodity. Instead of focusing on car companies who will be producing the flashiest or the fastest car, you can look for companies that are developing transportation systems that are affordable, efficient, and easy to use.
The reality is that the next generation of drivers doesn't really care about driving. They just care about getting from point A to point B.
–
E/P members standby for more on this.