Tesla Will Change The World And Waste All Your Money
Tesla will change the world. No, Tesla is changing the world. And faster than you can even comprehend.
Just so we're clear, I'm about to drag Tesla across the coals. Same with Solar City and Space X.
Elon Musk's multi-billion dollar empire is just a giant crony capitalist funded house of cards that could implode at any second.
Tesla, Solar City, and Space X have received billions of dollars in government subsidies and have numerous different government contracts that essentially make these companies bedfellows with US tax payers.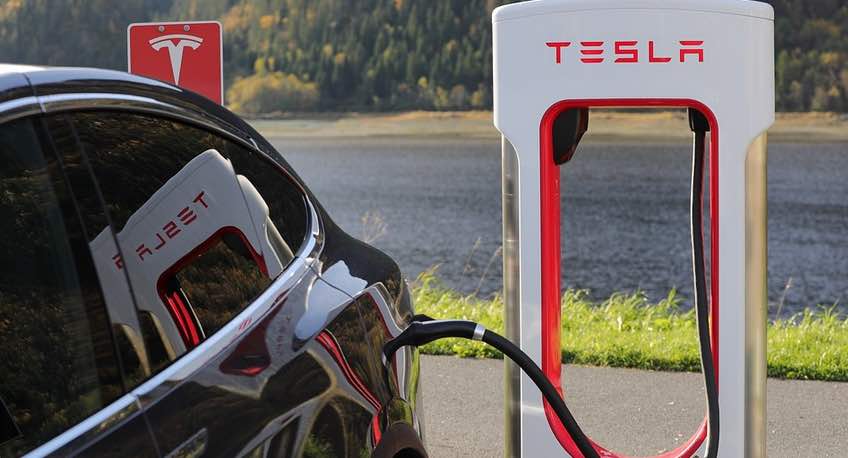 Do you like fancy rockets, roof tile solar panels, and luxurious electric cars? Well, if you live in the US, you're paying for them whether you like it or not.
And if you do like electric vehicles, you can buy Tesla stock with it's unbelievably inflated valuation, massive debt load, and ridiculous non-GAAP reporting.
(Generally Accepted Accounting Principles – GAAP – is the accounting standard adopted by the U.S. Securities and Exchange Commission. Basically, it keeps companies honest by comparing their finances on a level playing field. Lately, some companies, like Tesla, having been skewing their accounting practices to favor their outlooks. This completely augments the valuation of the company as it becomes nearly impossible to compare their finances to other companies. Hence, the reason why Tesla has outlandish valuations.)
Now… let's hear the other side of the story…
I was in Colombia earlier this week for an investing trip (which turned out to be extremely successful with some great investment opportunities that I will be sharing in the near future). On my way back I flew from Cali, Colombia to LAX, which cost around $300.
The problem was that from LAX I needed to get to Palm Springs, which is about a 30 minute flight. That 30 minute one-way flight cost $400… more than flying from Colombia to the US. Crazy-stupid expensive.
So, I looked for other transportation options. I eventually found out about the company Tesloop, which is crazy-AMAZING.
(I have zero connections to Tesloop, so I have no incentive to talk so highly of this service. On top of that, I just told you about what I think of Tesla, so I clearly have no dog in this fight.)
The ride from LAX to Palm Springs cost me $29 in a brand new Tesla X. There was juice, coffee, water, snacks, noise cancelling earphones, neck pillows, wi-fi, and every amenity you could wish for in the car. It was literally like flying in first class… except I was in a Tesla.
Tesloop is a company that uses Teslas (they say they have no affiliation with Tesla) to transport people on pre-scheduled routes. Right now their routes are in California, but I'm sure they are expanding soon.
Here is the crazy part… Tesloop calls the drivers of these vehicles "Pilots." 95% of the journey uses driverless technology and the Pilot just sits there in case something happens.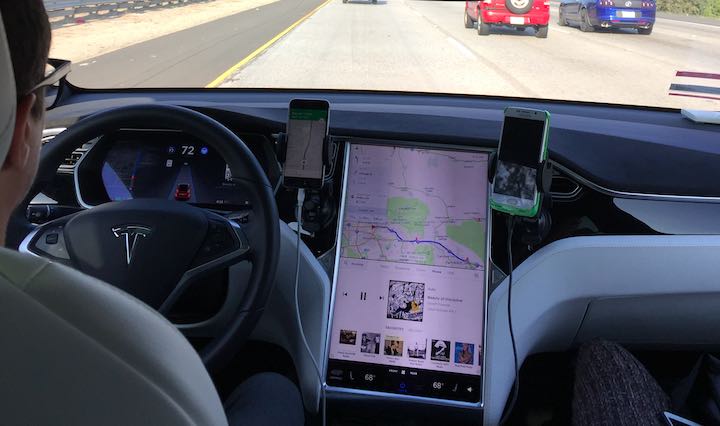 The "Pilot" may be sitting in the driver's seat… but that's about all he's doing. Sitting.
Yes. You read that correctly. Think about that. The car drives itself 95% of the time.
It's difficult to comprehend how this form of transportation will change the world… and this is just the beginning.
Imagine if you paid for a subscription service that allowed you to ride driverless Teslas anywhere you want. Imagine Uber combined with Amazon Prime combined with Tesla's driverless technology.
This isn't some sci-fi make-believe concept. This is happening. Right now in front of our eyes.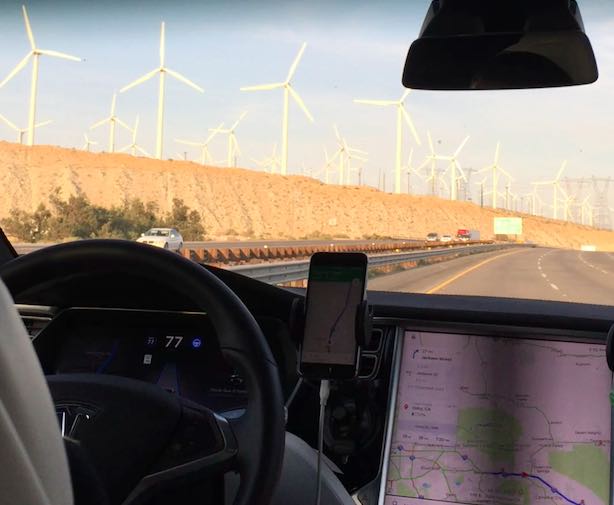 On the way to Palm Springs. Passing by the renewable energy wind turbines while riding in a self-driving electric vehicle. The future is here… at least in California.
Now remember all of those mean things I said about Tesla, Solar City, and Space X? Maybe it takes a fearless leader, like Elon Musk, to do whatever it takes to make these ideas happen.
Government subsidies, non-GAAP accounting, raising unlimited amounts of money from investors… maybe it's all justifiable in the end?
What if the world really is changed by all of this incredible technology?
I hope it is.
But… I'm not going to put my hard earned money in these overvalued investments. Yes, there are enormous possible gains, but there is also enormous downside risk.
I'd rather invest in things that are trading for multi-year lows. I'd rather invest in assets with minimum downside risk and massive upside potential.
Don't get me wrong. I enjoyed the Tesla ride. Hell, I might even buy one someday. But, when it comes to investing in the company, I'm going to steer clear. I'm going to invest in areas I know will make me money, because I'm going to need a lot to buy that Model X with a $100,000 price tag!
–
What do you think of Tesla?
I've found there are only two opinions. Love or hate.
The people who love Tesla hate me for speaking down on the company.
The people who hate Tesla hate me for speaking highly of the company.
Either way I'm screwed… but I'd be interested in hearing what you have to say anyway!